I made a tough decision last Monday: my Carina is for sale!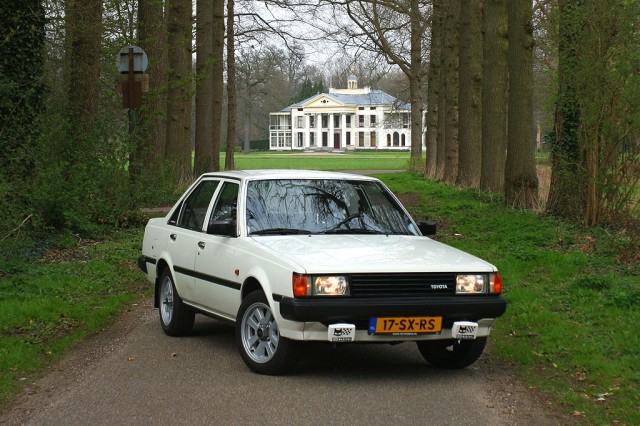 The reason why? Well I got an offer for a (project) car that I can't refuse. 😉
My goal is to sell the whole as one lot, but if some buyer decides not to buy all the parts/JDM stuff I'll put that here for sale seperately. So what does the whole package include?
Toyota Carina 1.6 DX TA60 Automatic
Built: 1982 (July)
Color: white (cream)
Mileage: 91874 km
Interior: black/cream white
The Carina has always had its checkups at a Toyota dealer and looks great for its age, but naturally there are some small points of attention: white stains on the windshield (outside viewing range so no MOT problem), rust on C-pilar near the left rear door, small parking dent on the right rear door but there is no scratch in the paint (some unknown person bumped into mine on a parkinglot and left without leaving a note).
The car has APK (Dutch MOT) till 7th of July 2013, exhaust has been replaced three years ago, waterpump last year and the car had its 90000 km checkup at the Toyota dealer October last year.
During the 90000 km checkup rust was revealed in the rear inner fenders and early 2013 this has been professionally fixed (by 2mmm sheetmetal) and the floorpan is now solid and rust free.
APK will naturally be prolonged by 2 years.
Specifications:
15 inch Celica Supra mk2 rims with Falken ZIEX 912 195/60R15 tires (5mm profile)
Toyota Corolla AE86 steering wheel (GT Twincam 16)
2 three point seatbelts and 1 hip seatbelt in the rear (kidsfriendly!)
JDM Toyota Soarer MZ10 centercaps
JDM tail lights (originals are easily restored)
JDM License plate holder
JDM Carina mudflaps at the read (got a Carina logo)
Koni shocks (yellow) ar the front (replaced 4 years ago)
Original Toyota cassette radio with automagic antenna
Yellow Marchal foglights
Extra parts (not mounted on the car):
Original TA60 steel rims with centercaps
Original tail lights
Koni shocks (red) to be mounted on the rear axle
New disk rotors
JDM AA63 Gauge cluster (including tacho, oil pressure, etc)
JDM quad headlights (needs work)
Various new old stock panels: front fenders left and right, rear quarter panel right, bootlid and front valance
New old stock read bumper
New old stock EUDM grill
Diamond shaped JDM grill of an AA60 ST
Rebuilt JDM quad headlight grille and surrounding
Shabby JDM quad headlight grille and surrounding
FOHA spoilerset from the early 80s (front air dam and bootlid spoiler)
Rebuilt TA40 gearbox (T50, 5 speed)
Celica TA40 propshaft
Celica TA40 flywheel
Celica TA40 dual carb (2TB)
A lot of small parts like extra sidelights and such
Asking price: 3950 euro
Price with or without parts is negotiable.
*update*
Apparently the contact form was broken for a while. Just fixed it…