Today I received this package in the mailbox! It is a stack of brochures I won via a CataWiki auction. Most of them are 90s era Nissan Maxima and Bluebird brochures, but it also included a JDM Nissan Bluebird 910 and Laurel Spirit brochure.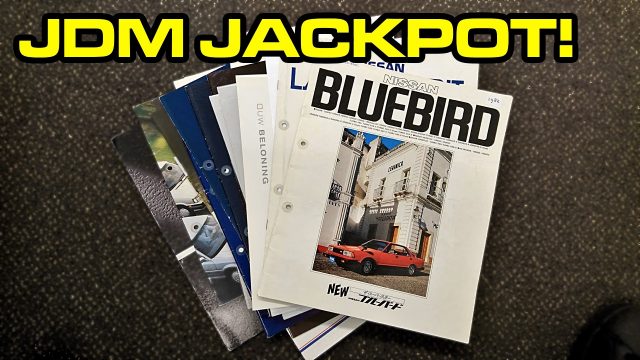 So I was really happy winning this 5 euro bargain!
Unboxing
Let the unboxing begin:
Nissan Bluebird 910
The Bluebird 910 brochure is a real gem: not only does it contain the SSS, but also the Turbo SSS model! And if that wasn't enough, also the Turbo SSS-X! And it can even get crazier than that, it also has the Turbo SSS-X G-Type! Yes, that's truely amazing Mike!
Nissan Laurel Spirit
The Laurel Spirit brochure is a bit less exciting: it is a rebodied Nissan Sunny/Sentra B12. The Nissan Laurel was quite a posh car in the 80s, so rebranding a Sunny/Sentra in the spirit of a Laurel makes sense. Nissan's board must have thought they best ride the wave of cashcows while they still could…
Other brochures
I actually was after these two JDM brochures, but I found in the stack of brochures three other brochures of interest:
USDM 1982 Nissan Stanza brochure (a.k.a. the Prarie in Japan/Europe)
Dutch 1984 Nissan Laurel brochure
Dutch 1986 Nissan Laurel brochure
The others were all meh: mostly 90s Maxima and Bluebird brochures. But maybe they will come back in fashion in a few years, who knows?
I'll definitely read these brochures closely and add some of them to the random brochure/magazine feature in the Banpei Weekly once this round is over.
Direct link to video: Nissan Bluebird 910 and Laurel Spirit brochures [Unboxing]