As I said earlier today (I'm in a different timezone): if I encounter more nice cars I'll definitely post them. So how about a well used Toyota Corolla AE86 GT-S in the Milpitas Wallmart parkinglot?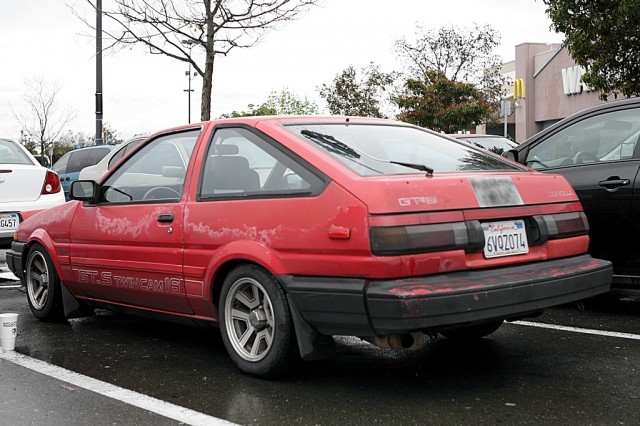 While I was taking this photo the owner returned (hence this photo turned out not entirely sharp) and I had a short chat with him. He told me he is on the verge of buying a Scion FR-S as he is tired of continuously repairing an old and tired car. He offered me the car for sale but I friendly declined the offer. It will simply not fit in my suitcase and I guess my wife will kill me if I returned home and explained I just paid a fortune to ship a car to Europe. 😉
From every angle you can see that the sunny weather in California isn't doing any good to the car: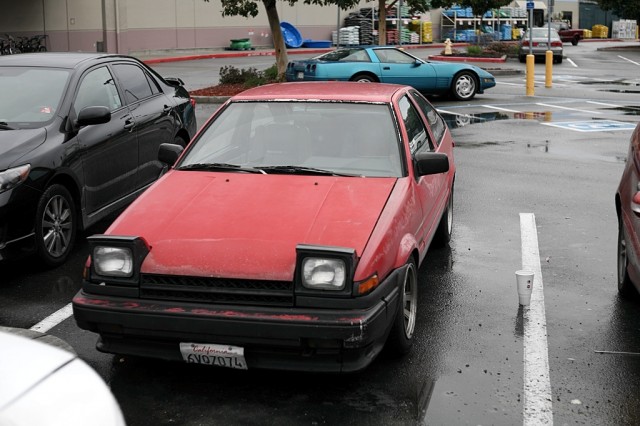 The top coat is peeling off and the dash was cracked (seen worse though). Interior was almost non existent: driver seat was beaten and everything behind it was missing. Also a rear spoiler had been fitted once but now has been removed.
Other mods are obviously the JDM AE86 redline tail lights from the Sprinter Trueno and the 7J 14 inch Celica Supra P-type rims.
Coincidentally I spotted another AE86 today but I'll save that one for later.