AE86 Trivia: AE86 and AE85 Gauge clusters
AE86 Trivia: AE86 and AE85 Gauge clusters
Earlier I featured the AE86 GT-Apex Digi Dash and obviously it raises many AE86 enthusiasts hearts. This time I'd like to feature the normal AE86 cluster versus the AE85 cluster.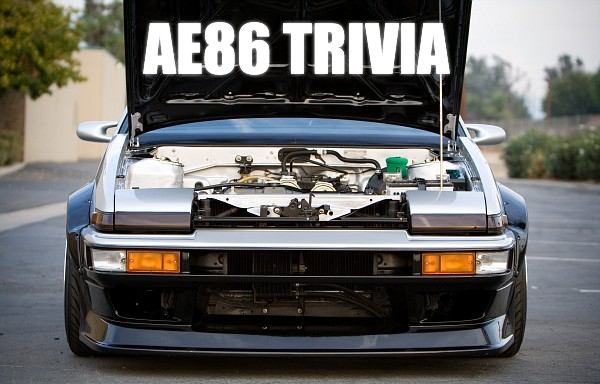 In case you feel you have a deja-vu by now: you are completely right about that! I did post the AE86 gauge clusters earlier, but repost it once again with additional information.
JDM
If you ever owned an AE86 (or watched too much Initial D) these clusters should be quite familar: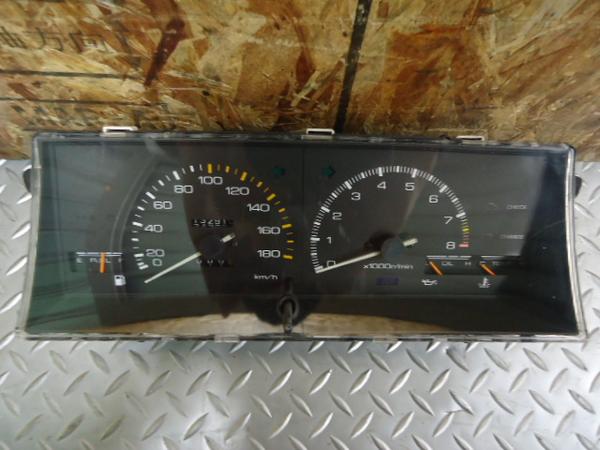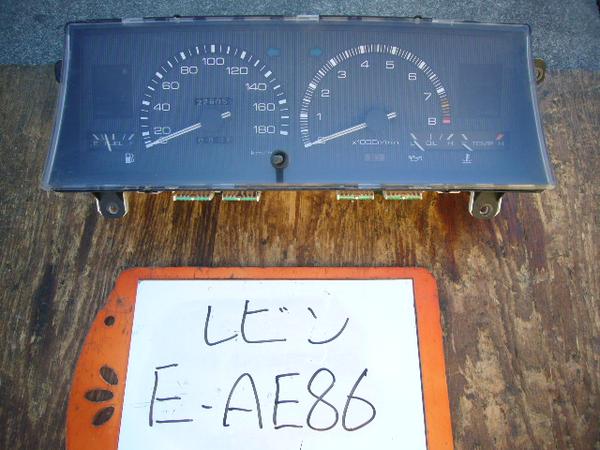 The top one is the standard JDM zenki AE86 cluster (83010-1A730) and the lower one is the kouki cluster (83010-1A731), both for RHD cars. Difference between the kouki and zenki cluster are the the white vertical lines, white needles that replaced the old orange needles and the orange indication you are driving over 100km/h.
In general these two clusters were always present in the GT and GT-V editions, while the GT-APEX editions did feature quite frequently the popular digidash option.
Another variant is this Black Limited gauge cluster:


It is the orange version of the zenki gauge cluster. Remember that the Black Limited actually is a kouki Sprinter Trueno with black/orange elements, so it is a bit surprising to see its gauge cluster being a zenki item. On the other hand I would not be charmed of a cluster with vertical orange stripes… 😉
AUDM
Almost similar to the zenki JDM dash is the Australian dash:



They only sold the Sprinters (as they were called) till 1985, so they only received the zenki dash. The tacho's redline is at 6K as these Sprinters received the 4A-C engine and not the 4A-GE. They were still featuring the AE86 chassis code, just like their USDM counterparts.
Big thanks to Fez for contributing this picture!
UKDM
Difference between JDM, AUDM and UKDM gauge cluster is the speedo that reaches 150mph (240km/h). Unfortunately I haven't found a picture of that cluster (yet)…
EUDM
Difference between JDM and continental EUDM gauge cluster is the mirrored layout and speedo that reaches 240 km/h.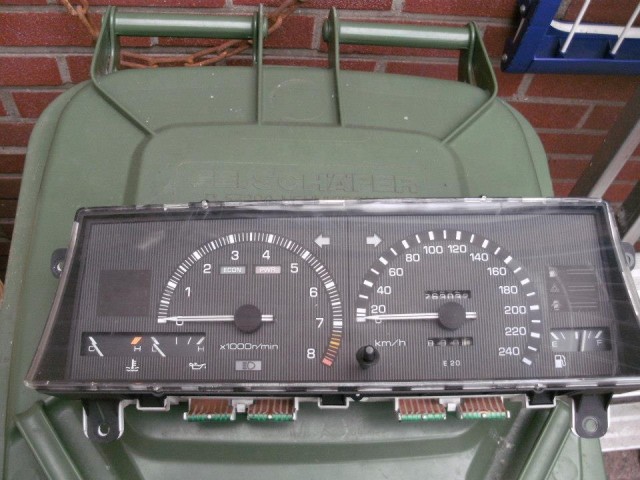 As you can see every gauge has been mirrored and the EUDM tachometer starts where the JDM ends (if you mirror it). Some of the warning lights have been mirrored as well and not to forget the trip-meter reset. Apart from that the difference of EUDM zenki vs kouki is similar to the JDM zenki vs kouki differences.
USDM


Difference between JDM and USDM is the mirrored layout and the speedo that reaches 150mph (240km/h) and reads "Unleaded fuel only". As you can see EUDM and USDM are pretty much the same, apart from the mph speedo scale and the "Unleaded fuel only" marking.
JDM AE85
Now you may wonder what the lesser JDM models looked like: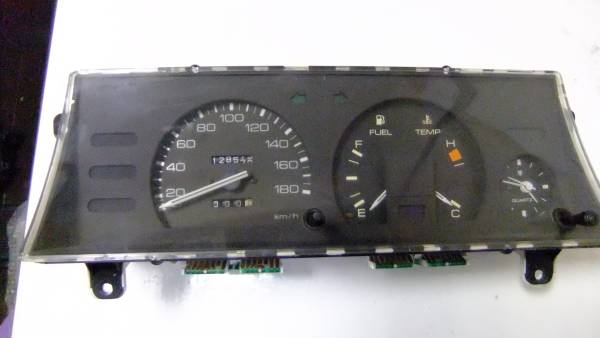 This is what the gauge cluster of the Toyota Sprinter Trueno AE85 XL Lisse looked like. 😮
USDM/EUDM SR5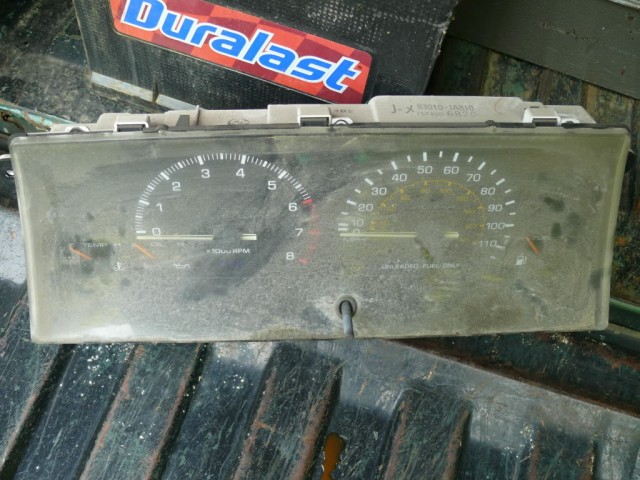 For other countries the gauge cluster of the SR models was the normal AE86 gauge cluster with a changed redline at 6k rpm (still 8k rpm max), for the SR5 models (picture above) it had a redline of 6k rpm and a speedo that reached 110 mph (180km/h).
SPECIALS
Then there are a couple of special gauge clusters:


The most well known is the TRD JDM layout gauge cluster that has a 10k rpm tachometer and a speedo up to 240 km/h.

Then there is also a TOM's JDM layout gauge cluster which also has a 10k rpm tachometer and a speedo up to 240 km/h.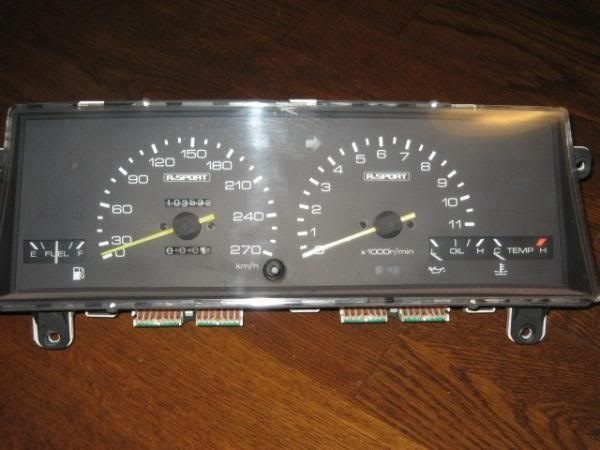 a ALSports JDM layout gauge cluster that has a 11k rpm tachometer and a speedo up to 270 km/h!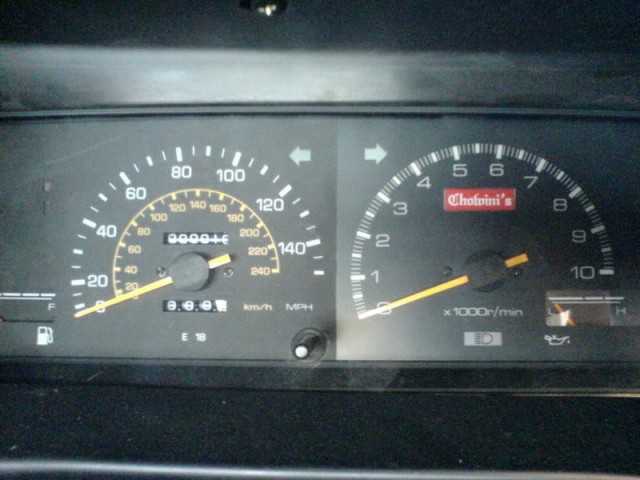 And there even was a drop in replacement tachometer for the RHD gauge clusters by Chowini available through the Finish company RMF that went belly up four or five years ago.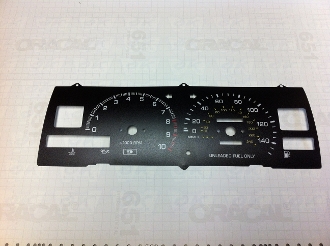 There is also an gauge cluster overlay available from Torparts which has a tacho meter layout going all the way up to 10k, but then you will have the USDM layout and a mph speedo. The overlay just extends the 8k rpm range to 10k rpm on the same scale so your tacho needs to be recalibrated or replaced.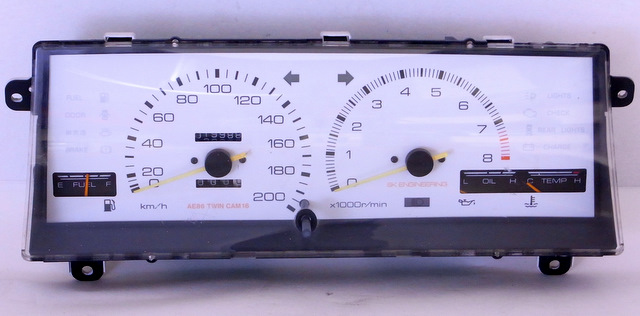 Also very beautiful is the white aftermarket JDM gauge cluster by SK Engineering which also has a speedo going up to 200km/h.

Another one off 220km/h JDM cluster.

Last but not least AEU86 member Ivan141 is currently busy on a RGB dash project where he uses several PCBs to backlit the AE86 gauge cluster in any color by using RGB leds. The project is still in its development phase, but he might sell it as a separate kit in the (near) future.
I know there might be a couple of other variaties around the globe, for instance I could not find anything regarding the AU/NZ clusters. If you have such a cluster: please compare it to what I posted here and tell me if it is similar to any other model.
Image sources:
Hachiroku.com.au
Torparts
AEU86
Auctions Yahoo
Auctions Yahoo