December 14, 2013 in AE86 Trivia by banpei
It is time to dig a bit deeper into the AE86 again and this time I had a specific model in mind: the Toyota Sprinter Trueno AE86 Black Limited!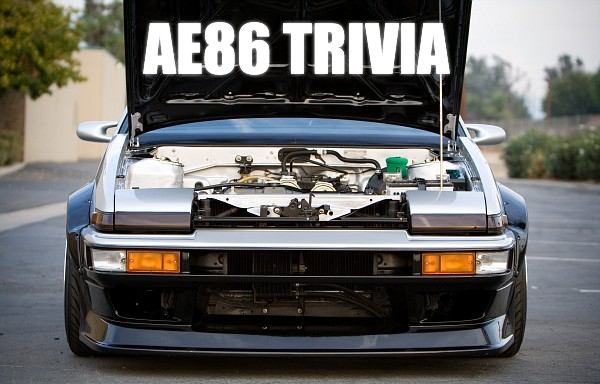 A total of 400 Black Limited AE86 were made in 1986 and all of them are Sprinter Truenos. So no Levins were available in the Black Limited edition! All Black Limited cars were graded as GT Apex.
This is the official brochure from 1986:

Fast forward 27 years and this is how some examples by Carland AE86 look today:

What are the key differences between the normal kouki Toyota Sprinter Trueno AE86 and the Black Limited?
Black (duh!) paint in colorcode (204) that was not available on the normal lineup.
Gold painted 5.5JJ x 14 inch rims (aka Snowflakes)
Kouki tail lights with a Black Limited mid section
Black Limited gold livery on the doors with a gold pinstripe
Golden Trueno grille logo
Black/grey/orange gauge cluster
Black/grey/orange leather GT steering wheel
Black/grey/orange leather gearshifter knob
Black/grey/orange interior
A very good example of the Black Limited orange livery: Read the rest of this entry →