As being an admin of AEU86 I've seen a lot of questions, facts and fun stuff about the Toyota AE86 (hachi roku). I also see a lot of questions returning even though we documented it on the FAQ already.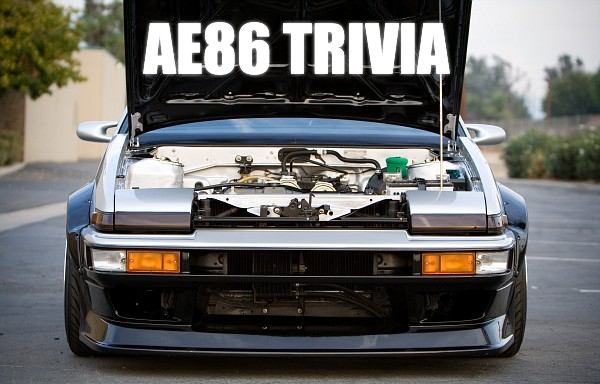 This week we feature the digital dashboard of the AE86!
If you are unfamiliar with it, this is what it looks like and how it operates:

If you want one you can get them either from a first generation (zenki) AE86 3 door with the GT Apex trim or find them through auctions.yahoo.co.jp in Japan. This version of the AE86 got the digital dashboard installed, unless you really didn't want one and ordered one without it. That also means that Bunta Fujiwara ordered his Sprinter Trueno without digidash back in the 80s. 😉
The 2 door zenki and both 2 and 3 door kouki GT Apex trim didn't get the digital dashboard default: you had to order it as a special option. It was also a Japan-only feature: it wasn't even available as an option in the US like it was on the Celica and Celica-Supra! That was a weird decision taking into account that 1984/1985 (launch of the AE86 in the US) was the peak of the popularity of Knight Rider!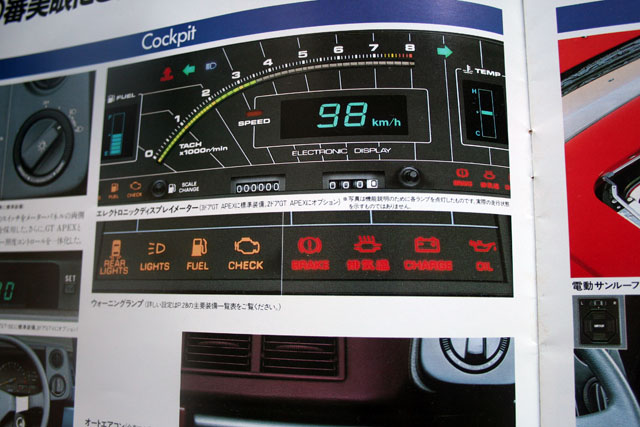 Digital Cluster in a Japanese zenki Sprinter Trueno catalogue
The digital dashboard was, like it implicates, a digital variant of the normal, analogue, gauge cluster. It displayed almost everything digitally:
everything except the mileage was digital. This also meant some signals feeding the cluster had to be digital: the fuel sender should give the signal digitally while the oil pressure became nothing more than a "warining" light for too high pressure.
In case you want to convert your analogue cluster to a digital cluster you arein need of two parts:
– digital oil pressure switch (one of a EP71,82,91/SW20/AE92/ST16x will do.)
– digital fuel sender (part# 83320-19725)
Especially the digital fuel sender is hard to get by!
Even though the digital dashboard has the same connectors as the analogue cluster you need to convert them to the digital cluster. You can find the wiring schema here:
Wiring conversion schema for the AE86 digital cluster
Is the cluster worth it? Personally I wouldn't care more or less if the digital dashboard had featured in my Trueno. In some ways it would even be a set back since you would lose the oil pressure gauge!
On the other hand it does have a certain coolness factor!