A few days I go I already posted about winning the tail lights and the very same day I received a package from Japan (from a different AY source) containing a set of Soarer Z10 centercaps, Carina mudflaps, Carina brochure and this little yellow 1/64 scale Toyota Carina GT-R:


I got it for a bargain price and did not expect much from it until I read this posting last week and was very impressed by it.
I compared it against the Hotwheels Skyline KPGC110 GT-R I bought some last week and I was shocked by the difference in quality! See also this picture: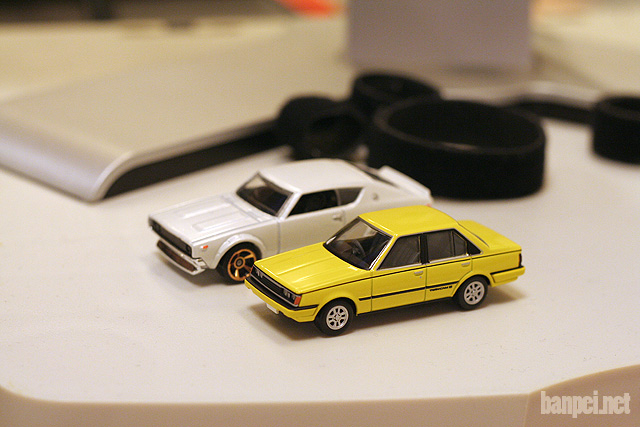 At first glance you can already notice the difference in details…
A closeup with some macro extension tubes (11mm and 18mm) mounted on my camera revealed the difference greatly.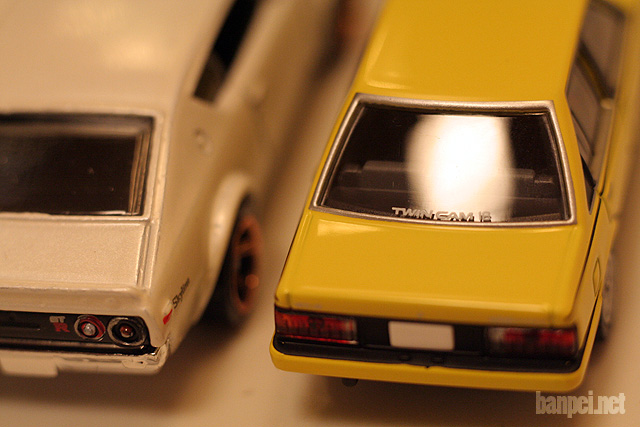 You can see the twin cam 16 on the Carina being sharp and smooth while the same size lettering of the GT-R logo on the Skyline is sloppy.
Also note that the Carina has the correct rear seat headrests!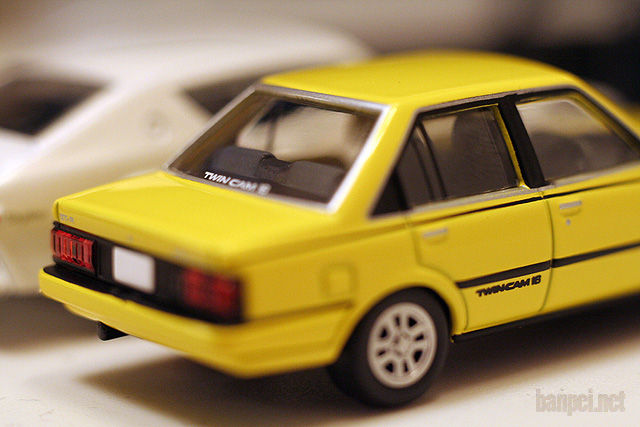 From the side you will notice the black twin cam 16 logo is even smaller and just as smooth as the white one on the rear window. Also notice the wheels: the correct Celica Supra rims complete with centercaps! Also the tail lights are made of transparent plastic and not painted on.
Even closer up it gets more scary: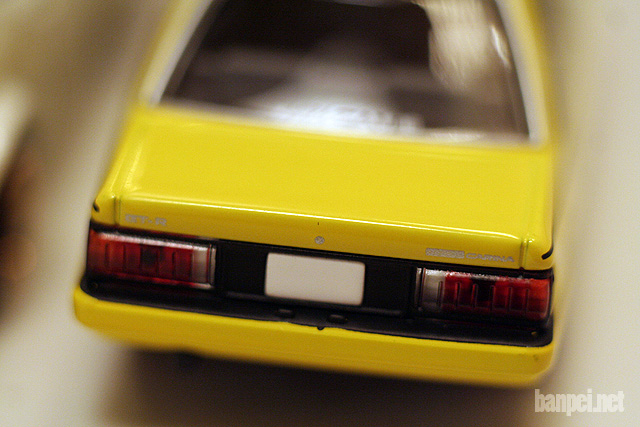 Notice the GT-R logo on the left side of the trunk? And the Carina logo on the right side of the trunk? That's less than a millimeter high!
They even attempted to create the inverted Toyota logo next to the Carina logo but it is not readable. Not even readable after a 24mm extension tube mounted to my Camera…
No picture of it yet, but the steering wheel is the original twin cam 16 model and the dash is 100% shaped correctly, the door trim has the correct pattern, the front seats have the correct model and fabric paint. I was able to find only one flaw: the bottom showed an exhaust, driveshaft, gastank and a live axle. The GT-R has IRS and no live axle…
Now then take another look to the rear of the Hotwheels Skyline KPGC110 GT-R: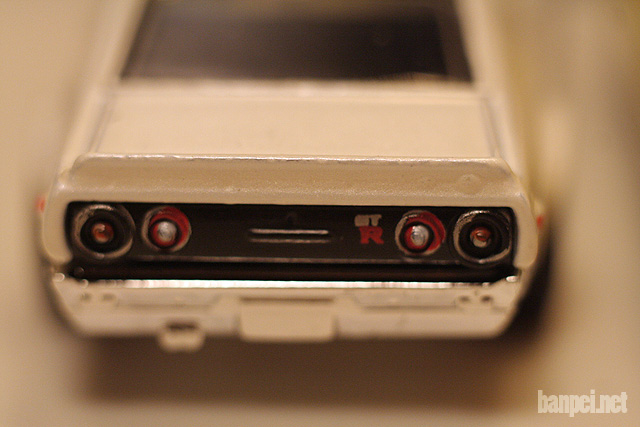 As shocked as I am??
I'll make some more photos later this week with a tripod to create sharper photos of the closeup details.
BTW: I'm not thinking that Hotwheels did a bad job on the Skyline, it's just that the Tomica Carina GT-R is so much refined. Also the price difference is enormous: I bought the Hotwheels Skyline for a mere 2 euros while the Tomica Carina GT-R cost me over 10 euros (including auction costs, excluding shipping) and that's a difference of day and night. 😉