February 4, 2015 in brilliant
Now this was a big jaw-dropper: two videos of a Toyota Mark II Grande GX71 literally covered in Showa scale model cars. This must be the largest personal collection of scale model cars I've seen!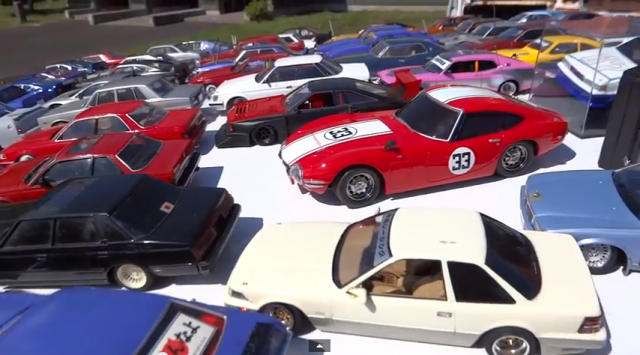 Now if you look carefully enough you can see that each and every scale model car has its own special paint job (mostly kaido racer, race car livery or kyusha kai) and set of (rare) JDM rims! If you count the number of hours it took to make them look this way alone it already is an amazing job!
Now the list of cars, mainly from the late Showa-era, is going to be a lengthy one, but I'll try to sum up the most important ones:
Toyota Mark II Grande GX71 (duh)
Toyota Soarer GZ10/MZ11/MZ12 (including the Shakotan Boogie Soarer twice)
Numerous Toyota Celica XX GA61
Toyota Celica GT RA45
Toyota Corolla Levin TE27
Toyota Corolla Levin TE71 four door sedan
Toyota Corolla Levin AE86 hatchback
Toyota Corsa AL11
Numerous Nissan Skylines C10, C110, C210, R30
Numerous Nissan Cedric/Gloria 230, 330, 430
Numerous Nissan Fairlady S30
Nissan EXA
Hasemi Skyline KDR30 Super Silhouette kaido racer replica
Nissan Silvia S110 Super Silhouette kaido racer replica
Isuzu Bellet GT-R
Mazda RX-3
And the list could go on for another 20 or 30 models that I overlooked…
Watch video number one: Read the rest of this entry →