Hearts and love surround this Toyota Carina GT-TR TA63. Let me explain to you why! I was split between posting this in Carina Sightings and Family Album Treasures, so I'll post it in both.
First heart: the girlfriend
In this first photo, you can see a girl posing next to the Carina GT-TR. Her name is Kobayashi Koto (小林古都) and according to the ex-owner of this Carina in the 1990s she used to be a model in the 1980s. She was most famous for being the model featured on the 1987 Bridgestone calendar. We can only assume she used to be his girlfriend as she has her arm wrapped around him. Or at least, as much as we can see of him in that photo. She is clinging to him so much that she must have loved him very much. Unless he was in her friendzone…
Second heart: O.Z. Hartge rims
The Carina itself features a set of 16 inch and 7J wide O.Z. Hartge rims. These rims are actually meant for BMWs, but they were also available for other cars. O.Z. producing these wheels for the German tuner Hartge doesn't mean they can't be sold for other brands. Especially not with the Hartge name on them? I actually managed to find a set for sale in 4×114.3 and these are 15 inch, 6.5J wide and have an offset of +25. They look incredibly nice, but with such a weak offset, I'm not a big fan of them.
Third heart: 4T-GTEU swap
Then also this Carina received a heart transplant. As you can see in the first photo, the bonnet is raised a little bit to let out the excess heat. So you may wonder what engine actually was swapped into the Carina… It's a Toyota 4T-GTEU!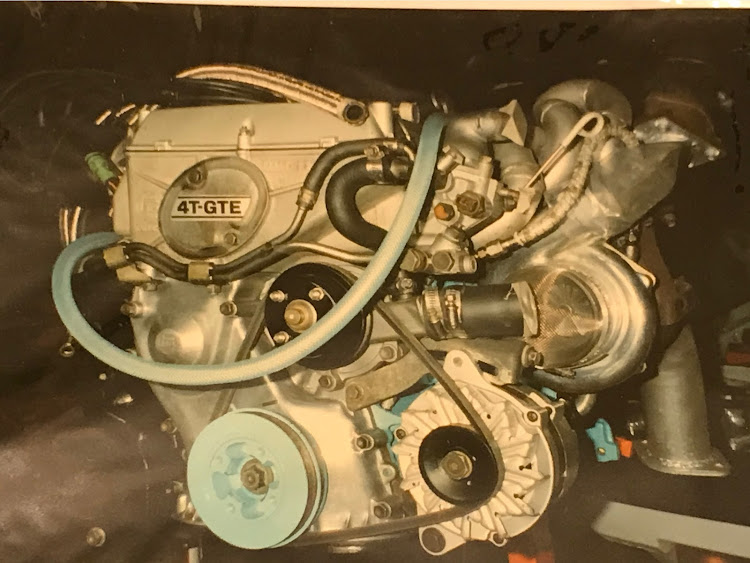 The 4T-GTEU engine was a special engine that was made for the Celica TA64 homologation special. It may seem a little bit odd for Toyota to create an engine that is only 21cc bigger than the 3T-GTEU. However, there is a very good reason for this: the extra 21cc would make the 1791cc displacement over 2500cc with the 1.4 turbo multiplication factor by the FIA. This enabled Toyota to run the Celica in the 2500-3000cc class in Group B rallying. This meant the homologation engine would remain a 1.8 litre and Toyota would be able to bore this engine up to 2.1 litre and remain under 3 litres. But I digress…
So the owner decided to swap the 3T-GTEU for a 4T-GTEU, overbore the engine to 1918cc, polish the ports, add HKS 264-degree cams and a Garrett TO4E turbocharger. There are no specifications on what the increase in output was, but I reckon it should be in the 200hp to 220hp range.
As you can see, there is a lot of love in this car: the engine, the wheels and also the girlfriend! Found at: Cartune.me