This Dutch brochure scan of a Toyota Corona RT46 panel van (delivery van) shows me another prime example of reverse fetish. I collect Japanese brochures and I love to browse them every now and then. Then go through every tiny little detail and compare the trim levels with each other. Apparently the blog owner here also has the same fetish and collects brochures from overseas! Brilliant!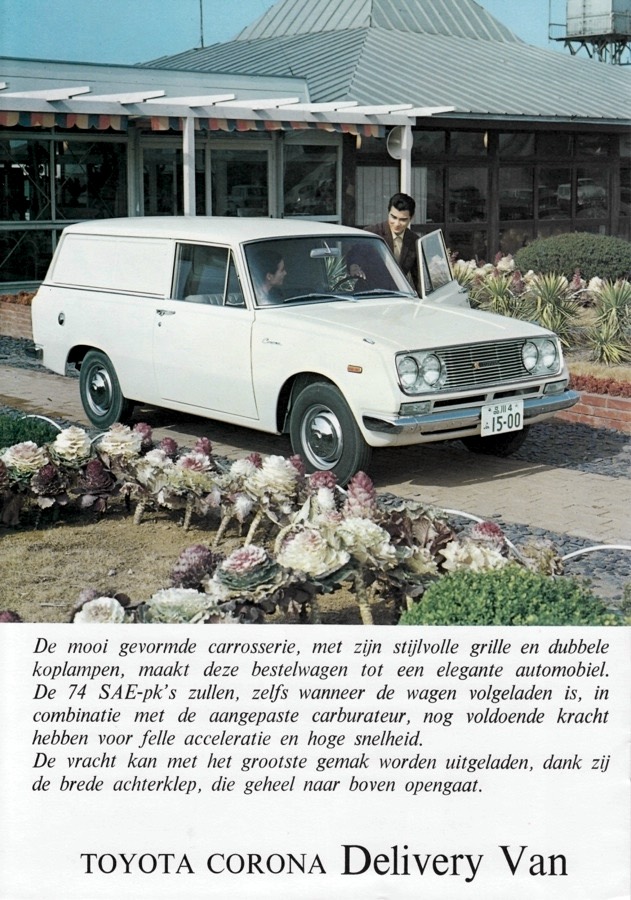 Corona RT46 panel van brochure
It puzzles me how a left hand drive panel van is driven by a Japanese man and the car features a Japanese license plate. Was this photo mirrored and then a Japanese license plate analoguely photoshopped over it? Or was this an Okinawa car as they didn't move their traffic to right hand drive yet?
As I'm Dutch, for me the description is totally clear. Let me try to translate it here including the correct tone:
The beautifully styled bodywork, with its stylish grill and double headlamps, makes this panel van an elegant automobile. The 74 SAE-hp will, even when the van is fully loaded, in combination with the modified carburetor, have enough power for acceleration and high speed.
The cargo can be unloaded with the greatest ease, thanks to its wide tailgate, which extends fully vertically.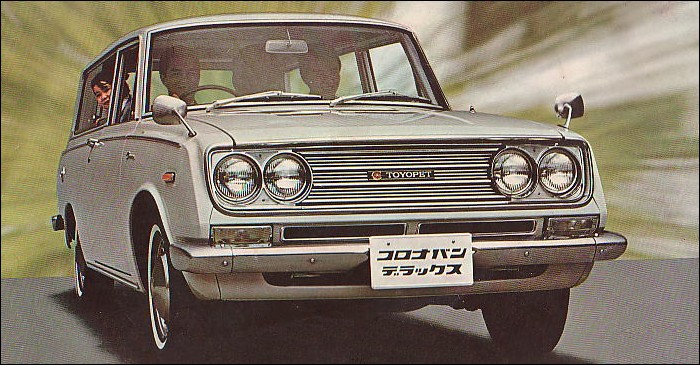 Toyota Corona panel vans
First of all, the Toyota Corona van was available in Japan without the blinded windows. Instead, it received sliding windows that allowed its read passengers to get beheaded when breaking at full force. Is that why these two men are grinning? That would be an evil thought! Anyway, I digress.
Japanese Corona panel vans
The Japanese Corona vans were available as the PT46V, RT46V and the PT47V. The PT46V and PT47V were powered by the Toyota 2P and 3P engines, which had an displacement and output of 1,198cc / 55PS and 1,345cc / 65PS respectively. The RT47V was powered by the 1,490cc 2R engine which has an output of 75PS.
The Dutch Corona panel van
The 75 JIS PS translates to 74 SAE hp, so we can safely assume the Corona panel van sold in the Netherlands was powered by a 2R engine. According to Toyotaoldies, the 2R engine was mated to a 3 speed gearbox but I'm not able to find more information about this gearbox.
Conclusion
The Corona T40 is from the era when Toyota was still trying to figure out what worked and what not. In the Netherlands the Crown S40 and S50 series were imported and used mainly as taxis. For some reason this worked really well in the Netherlands and it allowed Toyota to get a foothold. Similarly to entering the taxi market, they must have tried to enter the utilitarian market with this Corona panel van.
I'm not surprised that it didn't work out as planned. The taxi market is a market back then was operated by a large taxi conglomerate that would control the entire market in a town. So if the Toyota Crown wouldn't be up to its task (break down, etc), it could be replaced relatively quickly with another one.
For the delivery market this is a different story. These panel vans were targeted towards small businesses as larger businesses would be able to afford large vans or trucks. These cars were sold in much lower quantities and the owners of small companies tend to buy one, maybe two of these. That also means they would much rather go for a proven company with a lot of dealerships. Not some smaller start-up like what Toyota used to be.