Oh my. I posted this Celica Supra MA61 wall clock video already two months ago on Youtube! Time to do some catching up again!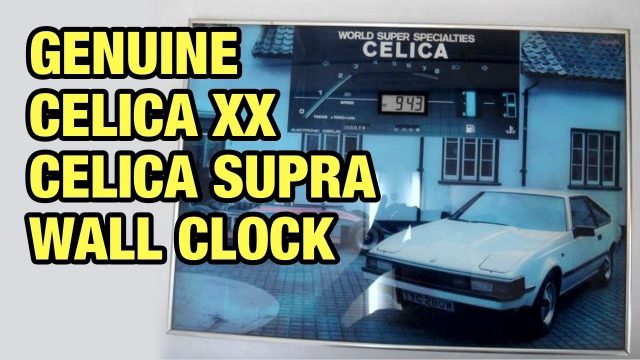 My Carina Digital Dashboard wallclock
I have covered this Carina digital dashboard clock in a video some time ago. It is an amazingly rare item that you hardly ever come by, and it took me six long years before I found another one!
What about a Celica Supra Digital Dashboard wallclock?
Since Toyota has made a clock for the Carina, naturally you would expect Toyota to have made similar items for other models. And of course they did: I found this Toyota Celica XX (also known as the Toyota Celica Supra MA61 outside Japan) wall clock for sale on Yahoo Auctions for the mere price of 28000 yen! (about 250 US dollars!) See the video below:
The clock is a bit of special: it features the Lotus 81 in the background. The Lotus 81 never was a successful car. Since the Celica Supra MA61 was designed and created around the same time Colin Chapman must have thought it was better to show the 81 than to show the more successful predecessor.
Due to financial difficulties around Lotus, Chapman got involved a deal with Toyota. Chapman was going to help on the handling of the sports models, while Toyota would deliver (cheap, ubiquitous) parts for the Lotus cars. This would lower the costs of production for Lotus, while Toyota would excel in their sports lineup. For Toyota this deal was very fruitful and Lotus did the suspension of the Toyota Celica Supra A60 and the Toyota MR2 AW11, but for Lotus the deal never delivered what they thought they would get out of it.
Even though I did post the video two months ago, the auction is auction is still available Yahoo Auctions:
http://page12.auctions.yahoo.co.jp/jp/auction/p544605974