Toyota Celica ZZT231 bass player [Car spotting]
Toyota Celica ZZT231 bass player [Car spotting]
On my way walking to the hospital I encountered this parked Toyota Celica ZZT231. From the rear it stood out with that big fat exhaust pipe and the bass player sticker indicates what the driver does for a hobby. 😉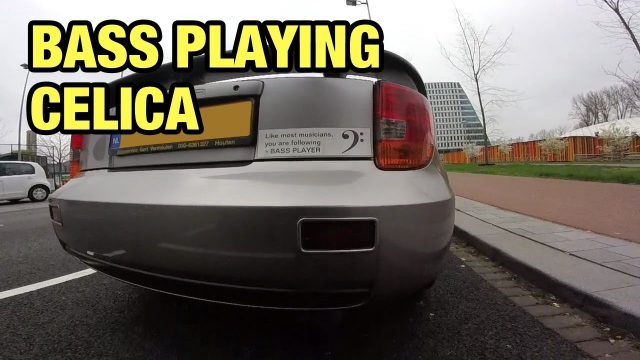 Toyota Celica ZZT231
The bassplayer is a 2001 Toyota Celica GT-S ZZT231, so that means it is powered by the more desirable 2ZZ-GE engine. The 2ZZ-GE engine is often called the successor of the final generation of the 20 valve 4A-GE (blacktop) where it advances the technology used in the 4A-GE blacktop. The VVTL-i is the successor of the VVT used in the blacktop, where the L denotes the dual camshaft profile.
German Cross
On the inside there was a weird gearshifter knob: it had the shape of a German cross. See it in the video below:
Since I was so intrigued by this, that the next time I was on my way to the hospital I decided to make another video.
This time I spotted the bass playing Toyota Celica ZZT231 parked in the exact same spot! Now did it move or does the owner like to park at the same spot every day?
Yes that weird German Cross gear shifter certainly is something different! I really wonder where you would be able to buy gear like this…
The Bass Player is a generic one that seems to be widely spread. The sticker can be obtained via various sites, like Amazon, Cafepress or Zazzle. I guess the sticker can also be found in any automotive shop as well.
Further more the Toyota Celica ZZT231 sits on a set of OZ wheels. I tried to figure out what they are called like, but haven't been able to find them. They really look like they are from 2005-ish, so let me know their name if anyone recognizes them.