Welcome to JDM Trivia #12 where I describe the Toyota Carina A60 history.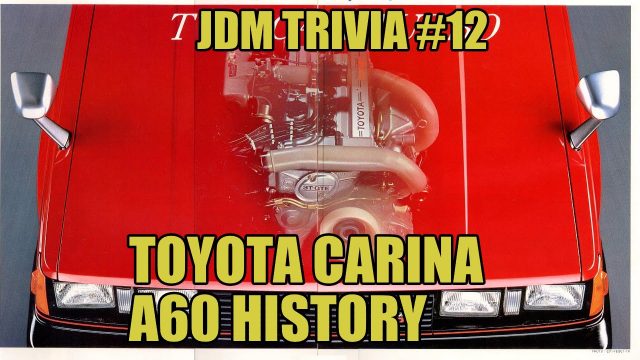 Carina, Corona and Celica combined
The Toyota Carina A60 started its life when Toyota decided to combine the platforms of the Corona, Carina and Celica. This delivered a floorpan that was identical for all three cars and some of the Corona and Carina body panels are even exchangeable.
Toyota Carina A60 generation
This generation of the Toyota Carina was produced between September 1981 and April 1988. For Toyota this was considered to be a very long lasting production. It obviously helped that the Carina derived van stayed into production till April 1988, but also the sedan and coupe were available till the end of 1987.

Model information
The video will give you a lot of information, about every possible model, engine, drivetrain for both zenki and kouki models. Top of the line 4A-GE and 3T-GTE models are naturally well featured.
Also the Jeune model is featured extensively, including it's remarkable high-tech parking sensors and the warning gauge mounted on the rear shelf. The idea of the Jeune was to have a rock solid car for the young inexperienced drivers, most of the time rich daughters of Crown owners. The parking sensors only became available on the top of the line Crown, after the Jeune already had been canned. So this feature definitely was seen as an aid for less able drivers.
Panda paint
Also in this video a good comparison between the various panda paint schemes are made. It is clear how it evolved from the zenki panda paint, via the AE86 panda paint into the kouki model.
This time I tried something different: I'm using a prezi presentation while narrating to the camera. It is a bit different than usual, but I think the slides made it look a lot better!
Direct link to video: Toyota Carina A60 history [JDM Trivia]