I found this scanned newspaper photo of a showroom of the Dutch Datsun car dealer Rhenoy (in 1977) posted in japanseklassieker.nl Facebook group and immediately thought to share it here: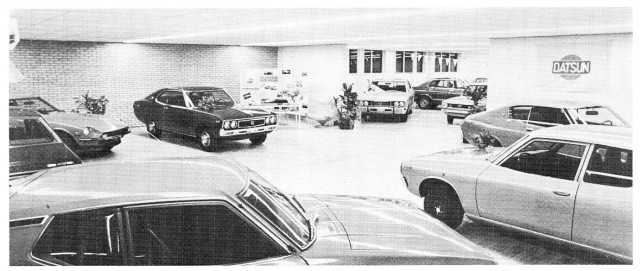 What I quickly spotted in this photo was (from top left clockwise):
Datsun 160B / 180B / 200B coupe (aka Nissan Bluebird 810)
Datsun 260Z (aka Nissan Fairlady Z S30)
Datsun 200L coupe (aka Nissan Laurel C130, aka pigsbutt Laurel, aka butaketsu)
Datsun 280C sedan (aka Nissan Gloria 330)
Datsun 160B / 180B / 200B sedan (aka Nissan Bluebird 810)
Datsun 100A (aka Nissan Cherry E10)
Datsun 160J coupe (aka Nissan Bluebird 710, or plain 710)
Datsun 100A F-II two door sedan (aka Nissan Cherry F-II F10)
Datsun 100A F-II coupe (aka Nissan Cherry F-II F10)
Now the big question is where is the Datsun 120Y (aka Nissan Sunny B210) in this photo? Or did I guess the first car wrongly here?
In my opinion the most interesting cars at this Datsun car dealer are the first four cars. Styling wise the late 70s was when Nissan shifted from coke-bottle styling to ruler styling and that's quite visible in this showroom. The all new 160B/180B/200B (Bluebird 810) just arrived and also shows the arrival of the ruler styling with its sharp lines. There is just one tiny coke-bottle hip left over at the rear quarter of the car. Even sharper lines and more angular design would arrive with the all new 1977 Datsun 200L (aka Nissan Laurel C230), 1977 Datsun 160J (aka Nissan Violet A10) and the 1978 Datsun Cherry (aka Nissan Pulsar N10).
If I had to pick one car from this Datsun car dealer showroom back in 1977 I probably would have taken the four door Datsun 180B sedan. Simply because of it practicality and fuel economy for as far as you could call it economical at all. However if I had to pick one today I would choose either the Datsun 200L coupe (I just love the word butaketsu!) or the Datsun 200B coupe.