I have been seeing this nearly original Toyota Carina GT-TR TA63 for the past few years in videos. I think it is one of the most stunning Carina A60s I've seen! As there are many videos around, I'd thought I'd go over the car once using photos from one video, and then make an overview of all the other videos I found of the car.
Red 1984 Carina GT-TR TA63 from Hokkaido
This 1984 Carina GT-TR TA63 is from Hokkaido. It is covered by various people on YouTube, but I'll feature videos by Yu Sasaki and Bankakuemiko.
At first glance, you would think it is nearly original. Almost as if it were new from the factory. It even still has the small black trim pieces on the wheel arches that were only present after the facelift in 1984. However, there are a few things that make it not original. From the outside, compare it to the red GT-TR in the 1984 Carina brochure: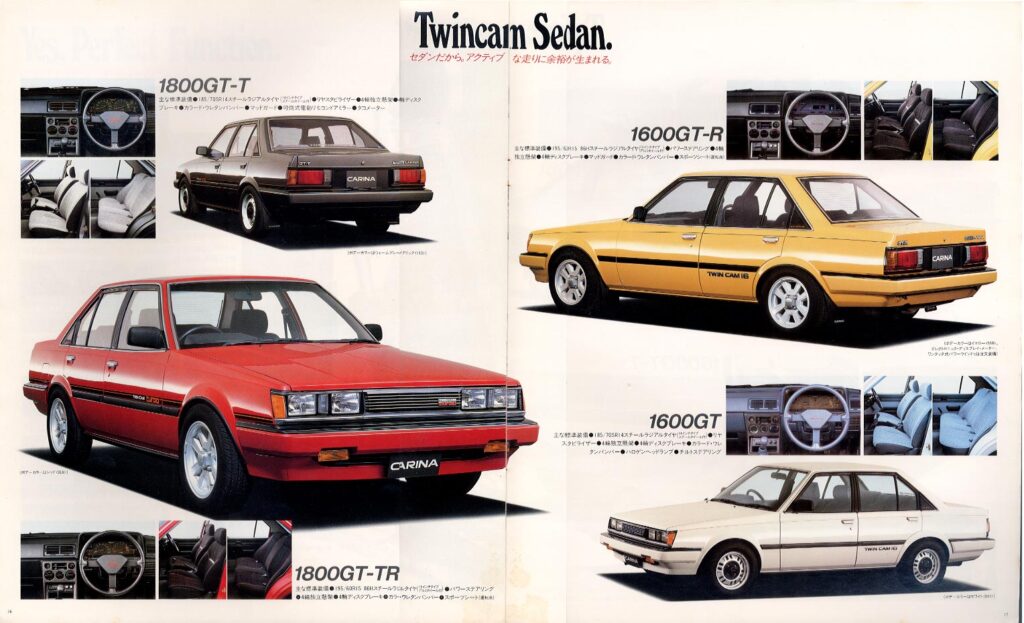 What is missing on our Hokkaido GT-TR, is the "Twin Cam Turbo" stickers right above the side moulding. This could be an indicator that this Carina did have a respray in its life.
Respray paint job
Speaking of respray, the car is a 1984 Toyota Carina GT-TR painted in a two-tone red. Most probably the color codes are 3E6 for red and 202 for black. I can't really call this a panda paint job as we are all too familiar with it on the AE86. However, the black striping continues from the side mouldings onto the top of the bumpers. This is similar to what we are used to on the AE86 panda paint. I really love this subtle touch of the GT range of the Carina!
Interior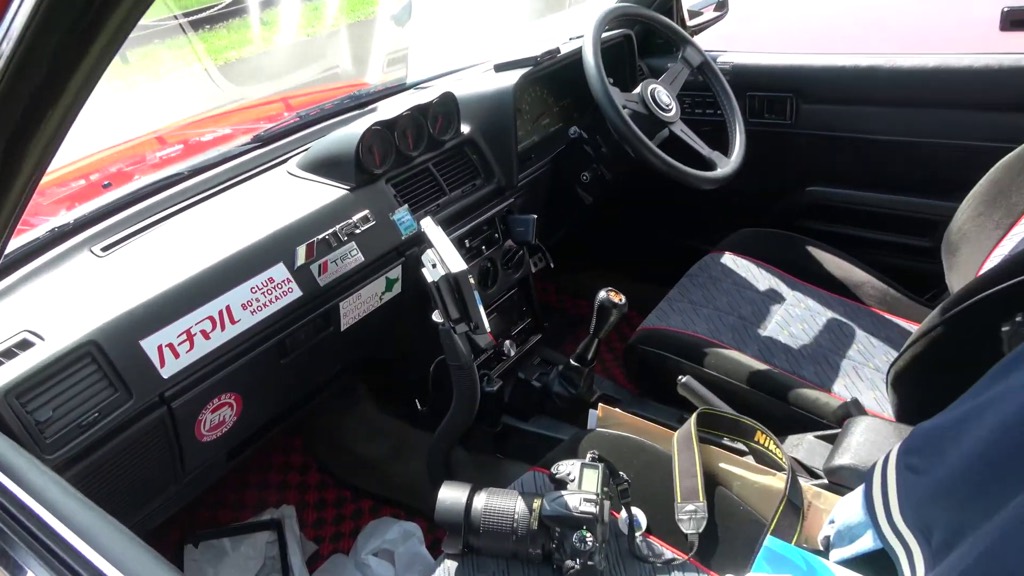 The interior is less original than the outside. Apart from the stickers, a set of, I think Defi, pod gauges has been placed on the dashboard. The steering wheel has been swapped for a small Nardi steering wheel. Finally, some navigation screen on an octopus arm is snaking through the interior. Apart from this, the interior seems to be 100% original. The seats are the original seats, but the fabric looks different than normal.
All screenshots have been taken from this video by Yu Sasaki:
What I love about this video, is that the Carina is parked next to a Toyota Corona AT141 or TT142 from the very same era. Both have the same 15-inch Celica Supra rims and both look equally stunning!
Other videos by Yu Sasaki:
Videos by Bankakuemiko: