Last week I already featured another Toyota Chaser JZX100 Tourer V and guess what: within the same week I find another one parked down on the street! Well, actually not on the street but rather inside the parking garage of the nearest Ikea store. Nevertheless, when I drove down the circular ramp I immediately spotted the JZX100 and exclaimed another WTF?!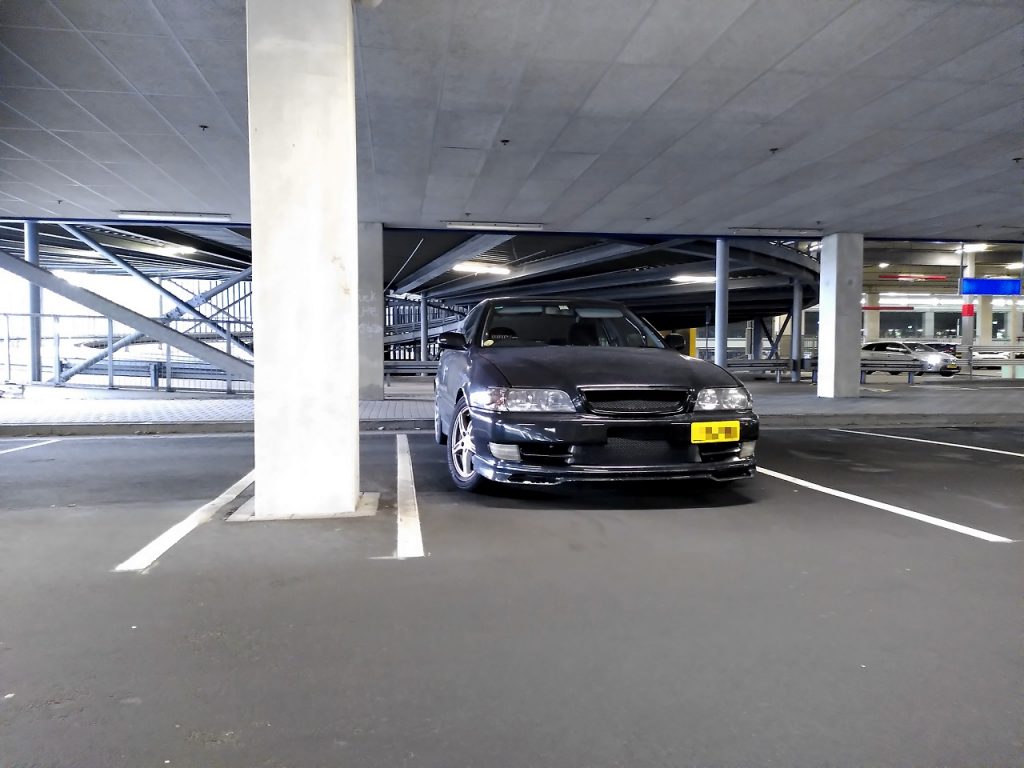 A rare encounter
Like I said in previous weeks posting, these cars are rare here in The Netherlands. It's not like you encounter them often and certainly not even within a week from each other!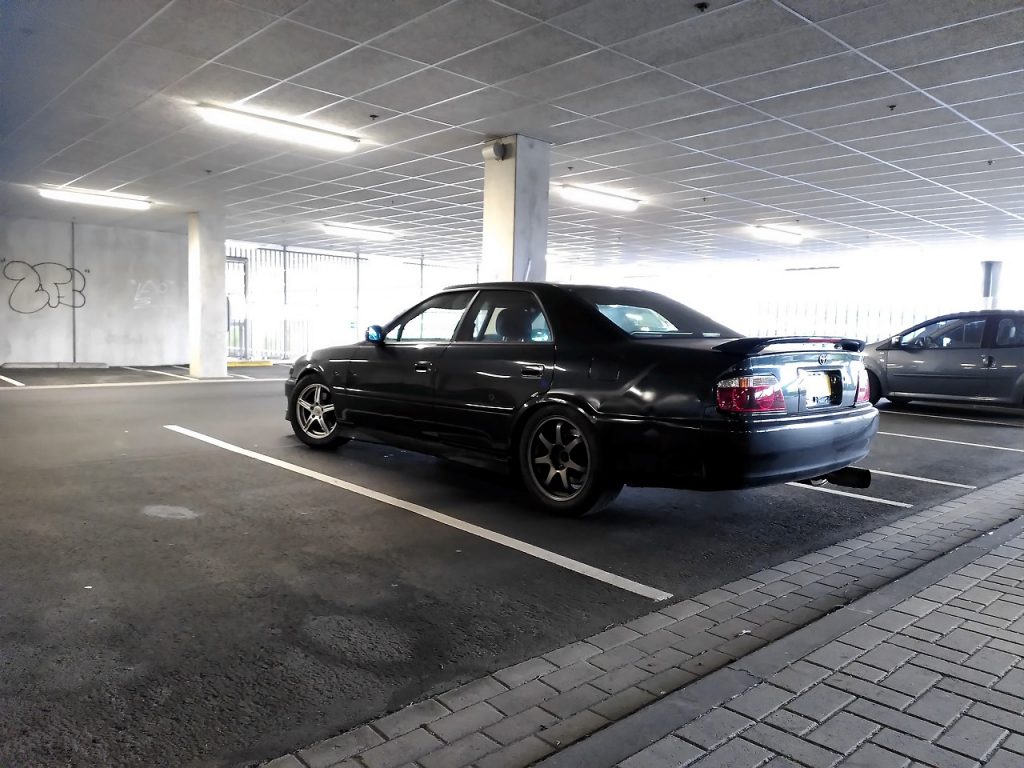 This JZX100 is a 1997 green car. It was imported into The Netherlands in 2020. I suspect it is a Tourer V (so don't pin me down on it) because it has a 2.5 liter displacement and 204kW on the wheels. That means it's got the 1JZ-GTE engine in it. That narrows it down to the Avante G and the Tourer V. The interior featured a sporty automatic gear lever, which narrows it down to the Tourer V. Naturally someone could have swapped these gear levers, but let's just assume this is a Tourer V.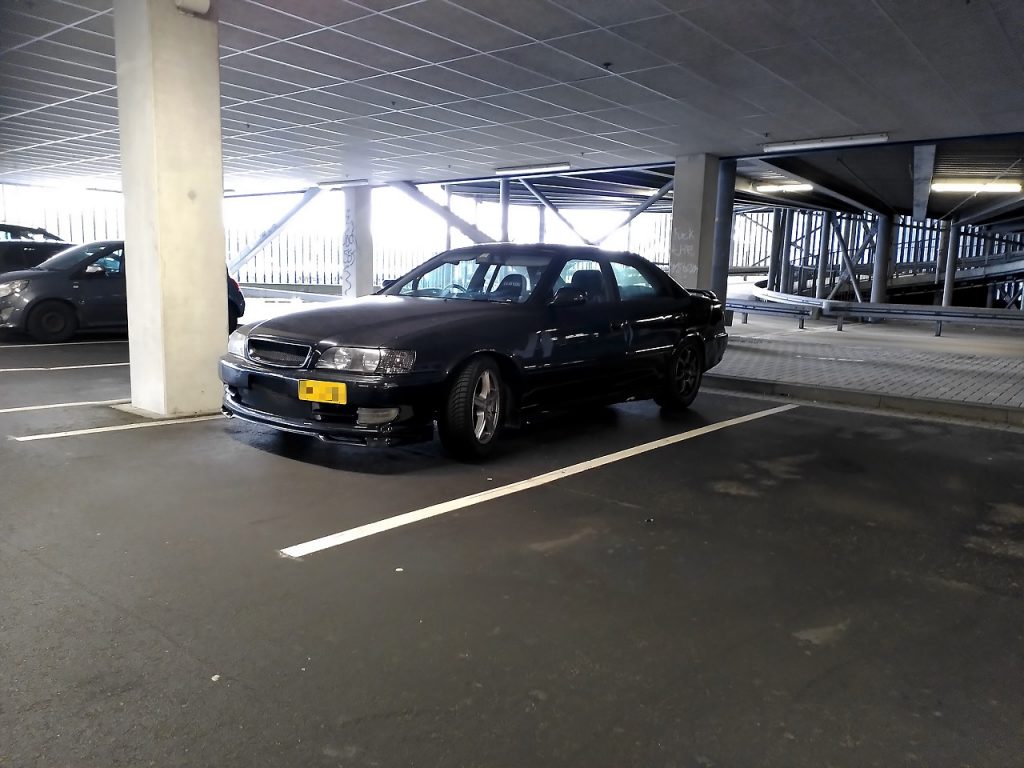 Drift accident damage?
This Chaser JZX100 Tourer V did see some sideways action. The rear left quarter panel clearly has got a dent in it and the rear left door also looks a bit wobbly.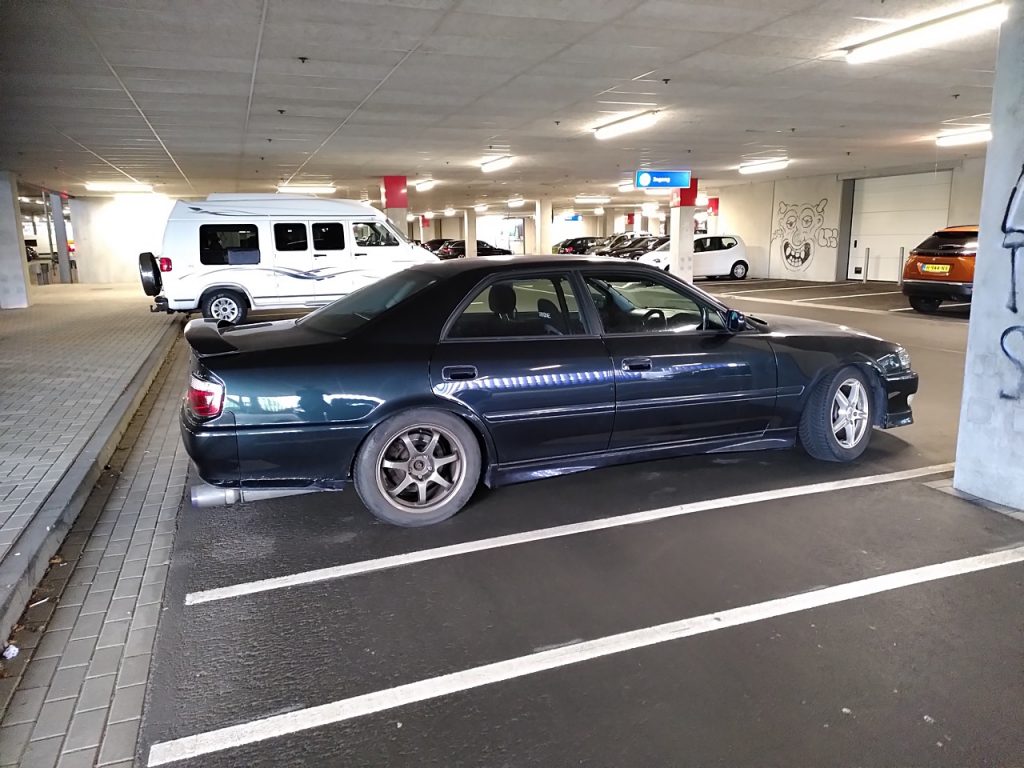 On the other side it looks perfectly fine though. And as a bonus you can see the cannonball muffler really well. In shape it looks a bit like the HKS Super Turbo exhaust, but that's a titanium exhaust and the one on this Chaser appears to be made out of steel. The interior features a Bride bucket seat, but apart from that it's mostly stock in there.
Mismatched wheels
You can also see it has mismatched wheels. You may like it or not, but I don't mind mismatched wheels if they are done tastefully. The rears appear to be Weds Sports SA90 7 spoke rims and at the front a set of OEM Honda wheels. Yes seriously: Honda wheels. Of course I personally have some difficulty with this choice of wheels.
Dealer option body kit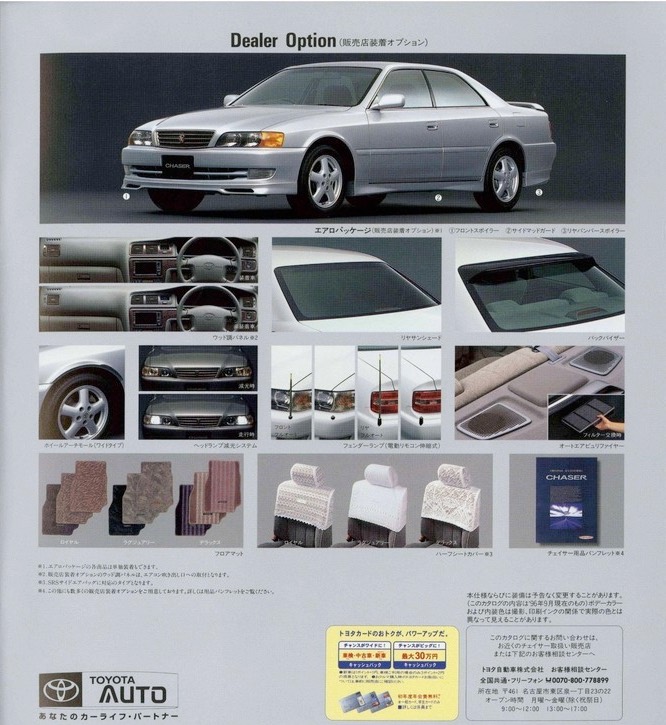 Finally we get to the body kit. Similar to last weeks Down on the Street, this Chaser also features the extra bits and pieces: the front chin spoiler, the side skirts and the bootlid/trunk spoiler are all part of the dealer options. No rear spoiler at the top of the rear window this time though.
If I had to compare the two Chasers, I'd prefer last weeks Chaser over this one. It's not just the damage, but also the color of the paint. I wouldn't mind a darker color, but dark green isn't my thing. However, in terms of style and presentation I would definitely prefer this weeks Chaser. It has smaller wheels and has been lowered a bit more, which gives it a much more profound stance.