JDM Trivia #3: Nissan Gloria Jack Nicklaus edition
This is JDM Trivia number three!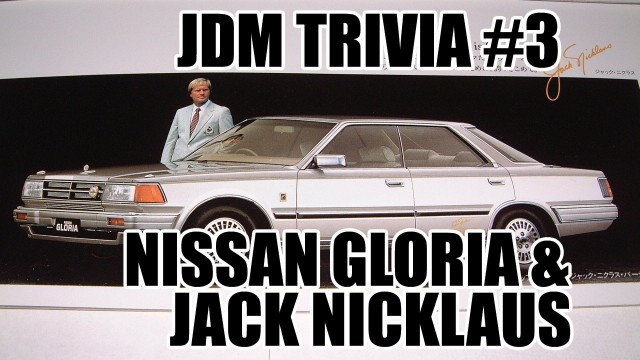 Daniel O'Grady from Wasabi Cars guessed last weeks teaser: the man is indeed Jack Nicklaus and his connection with Nissan is the Nissan Gloria.
The Golden Bear
Jack Nicklaus, also nicknamed The Golden Bear, is regarded as the greatest professional golfer ever. Within the 25 years when he was actively competing he won 18 major championships. Most car manufacturers like to get a bit of that fame and glory with their classy cars and Nissan wasn't the only one to line up for Jack Nicklaus.

Promoting cars
Jack Nicklaus promoted the Pontiac Grand Prix in the US for many years and in Japan the 1973 Isuzu Statesman De Ville was also coined by him. After Isuzu killed the Statesman in 1976 this opened up the road for Nissan to take over. In 1979 Nissan launched the all new Nissan Gloria 430. It is not entirely certain what year Nissan teamed up with Jack but it wasn't on the launch year.
Nissan Gloria 430 and Y30
The Nissan Gloria Jack Nicklaus editions featured both the 430 and the Y30 models and had uprated soft tweed interior, door handles, Jack Nicklaus special badges and walnut veneer on the 430 dashboard. The special edition was only available with the 2 liter or 3 liter V6 turbo (VG20ET or VG30ET ).
Teaser for next week: what is the device in the video called and what does it do?
Leave your guesses below in the comments or on Youtube.
See you next week!
Direct link to video: JDM Trivia #3: Nissan Gloria Jack Nicklaus edition