Everything about this Nissan Sunny GTi-R is insane and I'm not only referring to the specifications of the car! I covered this GTI-R a few years ago with a couple of photos but back then I was ignorant of its importance. As I had to pass this car every other day I decided to collect some more footage this time: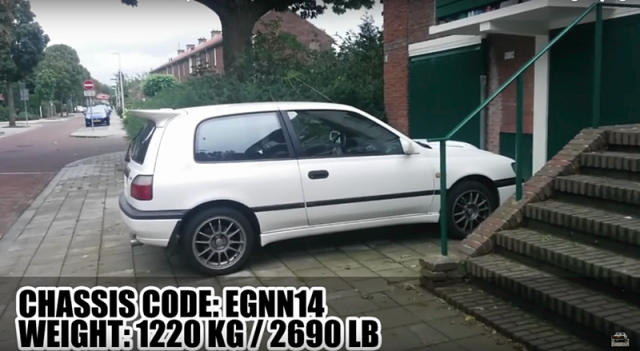 On the Dutch licence registration page the information told me it had been registered officially as a Sunny 2.0 GTI-R van. Wait a minute: someone was able to register a Nissan Sunny GTI-R as a van in 1993?
The video
Enjoy my homage to the Nissan Sunny GTI-R below that I created using the footage I collected during some five to six times passing by:

Nissan Sunny GTI-R background
The history of the Nissan Sunny GTI-R is simple: homologation. In 1990 the Nissan GTI-R entered the Japanese market to homologate the car for usage in the Group A rally class. The GTI-R was sold in Japan, UK, The Netherlands, Germany, France, Iceland and Italy between 1990 and 1994 and at the end of the production the total number produced was somewhere between 12000 and 15000. The chassis code differed between Japan (E-RNN14) and Europe (EGNN14) but apart from some interior differences (for instance lacking the umbrella in the drive side door) and a different fuel mapping there was not much different between the cars.
The GTI-Rs main features were the engine and drivetrain.
The engine was a Nissan SR20DET (code 54C) and the drivetrain the ATTESA all-wheel-drive system. The combination of a relatively light car, a powerful turbocharged engine and a all-wheel-drive system granted the GTI-R fenominal performance: acceleration from 0 to 100 kilometer per hour in 5.4 seconds!
To put this into perspective, an Italian company called Lamborghini launched their Countach replacement called the Diablo in the very same year as the Sunny GTI-R. The Diablo featured a 499hp 5.7 liter V12 that launched the Diablo from 0 to 100 kilometer per hour in 4.5 seconds! What helped was the weight difference between the Diablo and the GTI-R (1576kg/3474lb vs 1220kg/2690lb) and rear wheel drive versus all wheel drive.
After two rally seasons Nissan Motorsport Europe did not get the results they hoped for and they abandoned the rally project. Most of the blame was given to the choice of tires (uncompetitive Dunlop tires), the badly placed intercooler (also on top of the engine for the Rally version) and issues between Nissan Japan and Europe. Regardless the lack of success Nissan decided to continue to sell the car to the public.
The verdict
After I dug up all this information I finally realized what stupid error I made last time not to cover it more extensively! If the owner ever visits this page, I salute you: you have an excellent taste in cars!
Direct link to video: Part one