The video displaying this Nissan Skyline GT-R KPGC10 cutaway model was made by Daniel O'Grady from Wasabi Cars and I must say it looks awesome!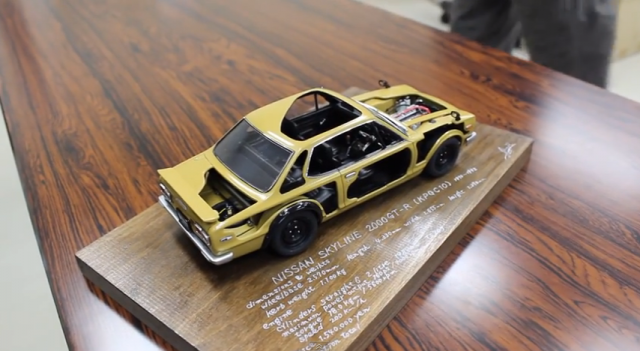 Its builder, Mr Junji Sawada, created something way cooler than an ordinary cutaway drawing: a cutaway scale model in 1/24 size and it is based upon a standard Tamiya model. You can see through most of the parts and if you look through the trunklid (or bootlid) you can see the special GT-R fueltank and spare wheel. The last two parts have been handcrafted as they were not part of the original.
Look for more details in the video below:

Daniel O'Grady from Wasabi Cars really has great videos on cars and (car)culture in Japan. Now if you haven't subscribed to the Wasabi Cars videos on Youtube, now is the time to do so. 😉
Also don't forget to look at the other scale models by Mr Junji Sawada. There are really awesome scale model builds with many smaller details.
Direct link to video: Cut-away: Tamiya 1/24 Nissan Skyline GT-R 2000 Hakosuka