Video: scientific review on the Alto Works RS-R
Video: scientific review on the Alto Works RS-R
A scientific review? On a Suzuki Alto Works RS-R CC72?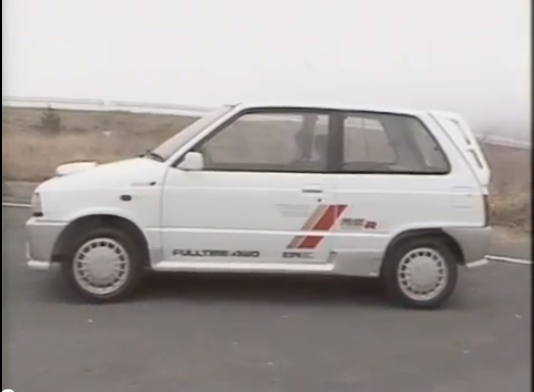 Yes, that is possible! Or at least that's what this video appears to be!

After a quick introduction the screen also shows all the Works livery on the side of the car. A small capture of what it all says on the passenger side of the car:
– Fulltime 4WD
– RS-R Works
– Twin Cam Turbo
– EPI (in small print: Electronic Petrol Injection and something too small to read 😀 )
Could they have stuck another sticker on the side bragging about what this little pocket rocket can do?
Maybe state its redline is at 9400 rpm?
The remainder of the video is performed by grey suited men not showing any emotion nor excitement about such an amazing piece of engineering. Could this be a scientific approach or just due to the culture of Japan in the early 80s?
For the hardcore spotters: somewhere around 1:51 the Alto Works RS-R gets passed by a hachijuugo, judging from its profile a zenki (early) Sprinter Trueno SR AE85.
Direct link to video: 初代 アルトワークス!!