I'm still owner/admin of AEU86 where all European hachi owners end up sometime, so I was quite surprised to find this rare beast on my forum: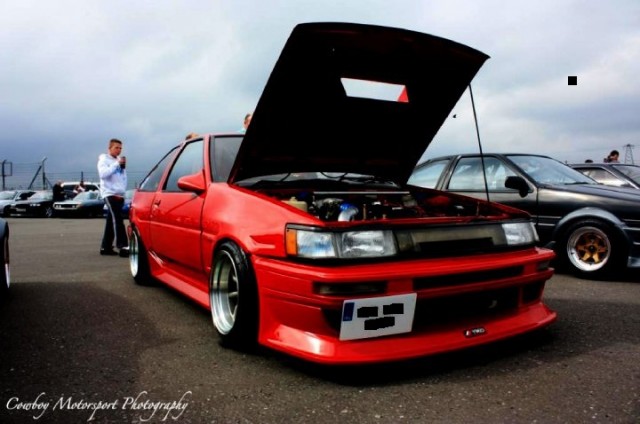 The car was built by Nakai-san from Rauh Welt Begriff (RWB) where he used the Run-Free kit as a basis for its styling.
It allows the Work Meisters to fit nicely under the wider arches: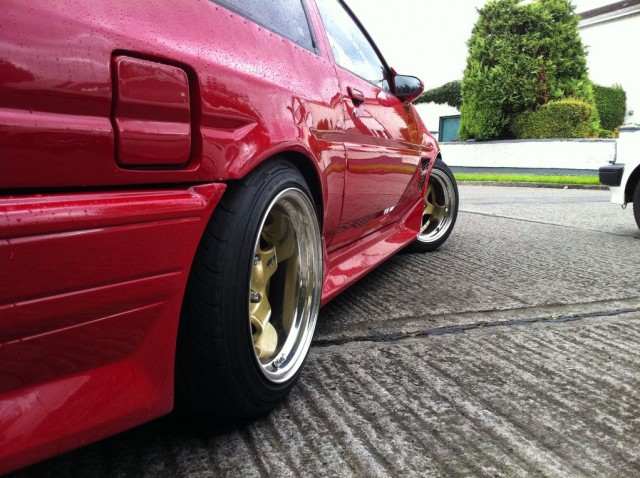 The Work Meisters weren't on the car when Dino Dale Carbonale featured this car on Speedhunters but regardless of that I think that the Meisters are actually a better fit.
Also the engine hasn't changed since: it is still the AE92 4A-GZE with HKS Turbo kit on it and it outputs between 220 and 250hp.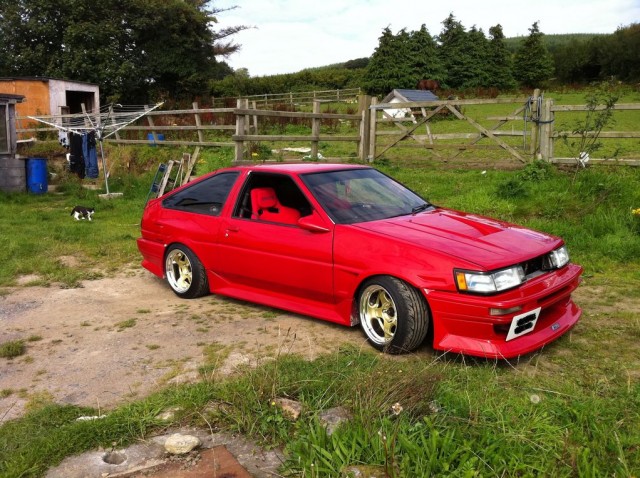 Now the fun thing about this car is that it is currently located in, of all places, Germany! Rauh Welt Begriff changed over to do Porsches only and what do the Germans do? Import the Japanese RBW cars! Now if that isn't a reverse fetisch!
The full modification list is as following:
SPEC
1983/12 Levin
BODY
Run Free F/S/R Aero
FRP Aero Bonnet
Aero Mirror
D Max Over Fenders (Rear)
Front FRP Wide Fenders
Clear Winkers
Red Line Lights
HID head Lights
INTERIOR
Bride Full Buckets x 2
OMP Steering wheel
7 Point Colour Coded Roll Cage
ENGINE
4AGZE Super Charger Engine Base
BIG/ Garrett Turbo
Hi Cams
HKS Wastegate
HKS Cast Manifold
GReddy Intercooler and Custom Piping
Trust Oil Cooler and Filter Relocation Kit
Freedom CPU
Strait Exhaust with cat
DRIVETRAIN
Aftermarket Clutch
1st 2nd 3rd straight cut gears
Aftermarket LSD
TRD Cross Mission Kit
adjustable coilovers alround dont know the make of the front one's think their trd ?? rear ones are T3
Adjustable Rear Panhard Rod
wheels work mster S1 15×9 offset -15 handcook tyers wheels and tyers are very new lots left on the tyers and the wheels are spotless Smile
OTHER BITS AND BOBS
Spot Welding throughout
Tacho Meter
Fully Repainted Red 4 years a go
SARD Sports Catalyser
Battery Relocated to Rear
Boot Floor Support Bar
Adjustable Tension Rods
Cusco Pilo Uppers
Roll Centre Adjusters
Aftermarket Front Pipe
Ultra Ignition Leads
Apexi Induction Filter
Metal Suction Pipe
Red Injectors think the cc is 550 i will check
SARD Adjustable Fuel Pressure Regulator
2 Layer Rad
Trust Racing BOV
Oil Catch Tank
Greddy Oil Pressure Gauge
Omori Dual Water and Oil Temp Gauge
Greddy profec B Spec 2
Omori RPM Meter
Blitz Turbo Meter
Gutcherie Supports
Aftermarket Front Pads
ken-wood DVD radio with i pod connection
Asking price is 9250 euros (11570 US dollar)
If you are interested in buying the car, you can find it for sale here (you need to register to actually view the page!)