In 1982 and 1983 Masahiro Uchida and Masaru Kubota joined the Paris-Dakar rally in a Toyota Carina ST A60. The year after they chose a different beast: a Toyota Corolla Levin AE86 coupe. And they stuck to that formula the next two years as well.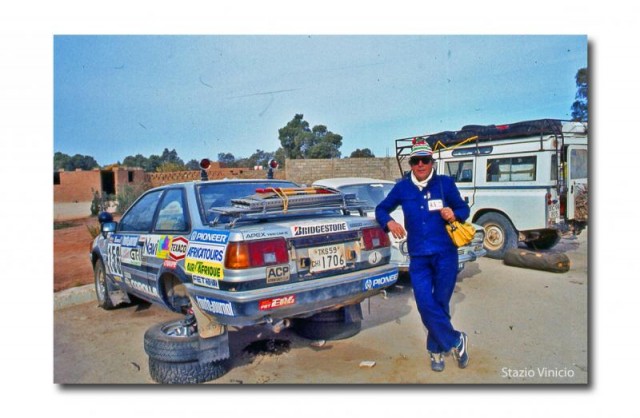 I have no idea who is posing next to the AE86, but surely that is neither Masahiro Uchida nor Masaru Kubota.
This is a zenki Levin, so it is not the same as the kouki the team used in their famous 1986 video.
Now there are a couple of things odd in this photo: first of all the exhaust is modified in a way that became fashionable in the mid 90s on Opel Calibras and Volkswagen Golfs. Probably they tilted the exhaust tip upwards to prevent it hitting rocks and bumps.
Second of all the rear axle appears if it is IRS and leaning on the stack of tires. Could it be they converted the live axle to IRS to increase ride height? I watched the 1986 video two times in a row but could not see a similar modification on the kouki Levin AE86 they used in 1986…
Via: Forum-Auto