How often do you see a Carina GT-R being reviewed? I bet rarely. It would be even much rarer to see it being reviewed by no other than Keiichi Tsuchiya! Yes, really: DK himself is reviewing a 1984 Toyota Carina GT-R AA63 that is for sale at Wonder in Nabari City, Mie Prefecture in Japan! His usual sidekick Sumire Sawa (沢すみれ) has been replaced by actress Nanako Aizawa who Keiichi keep calling Hachiko in this video. Hachiko will also get driving lessons from DK in the Carina in a second and third video further down below! The two (and the third man Takahiro Kudo) represent the Kurumaerabi car search website so I guess it is kind of sponsored content from them.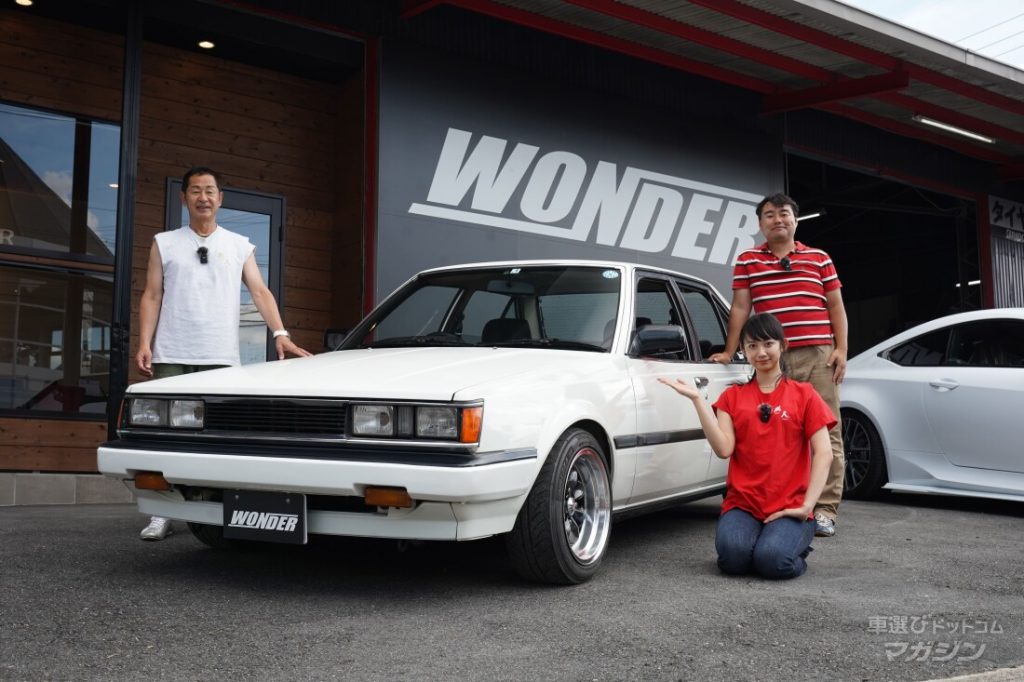 The Carina GT-R review video
At the start of the video, Keiichi Tsuchiya exclaims they need to review this Carina GT-R at Meihan Sportsland and so they do.
With a Toyota Celica TA41 and a Nissan Silvia S12 in the background, it's clear this isn't an isolated feature of the Carina. Instead it seems the whole inventory of Wonder was reviewed on the same day! However, I seriously doubt Keiichi considered reviewing this dog-bus.
What surprised me was that Keiichi Tsuchiya didn't know the Carina AA63 that well. I would have expected him to be knowledgeable on anything that is powered by a 4A-GE. He even drove a turbo charged Carina AA63 past its limits on Ebisu in Hotversion 33! So is this all make-believe? What he did mention is that one of his sempai drove one when he was still driving his KP61. Hachiko (or should I name her Nanako) keeps calling the Carina GT-R kawaii (cute) and she genuinely seems to like it a lot. At first he seems to be disliking the fact that it's a four door saloon.
Keiichi Tsuchiya enjoys driving the Carina GT-R
Keiichi Tsuchiya drives the Carina around on Meihan Sportsland and increases speed on every round. On every round he seems to enjoy the Carina more and more. Later on in the video he keeps praising the Carina and even calls it a four door hachi-roku. I think that's the best compliment you can get from the Drift King! Unfortunately, even though he likes it a lot and Hachiko accuses him from drooling, he doesn't drift the car.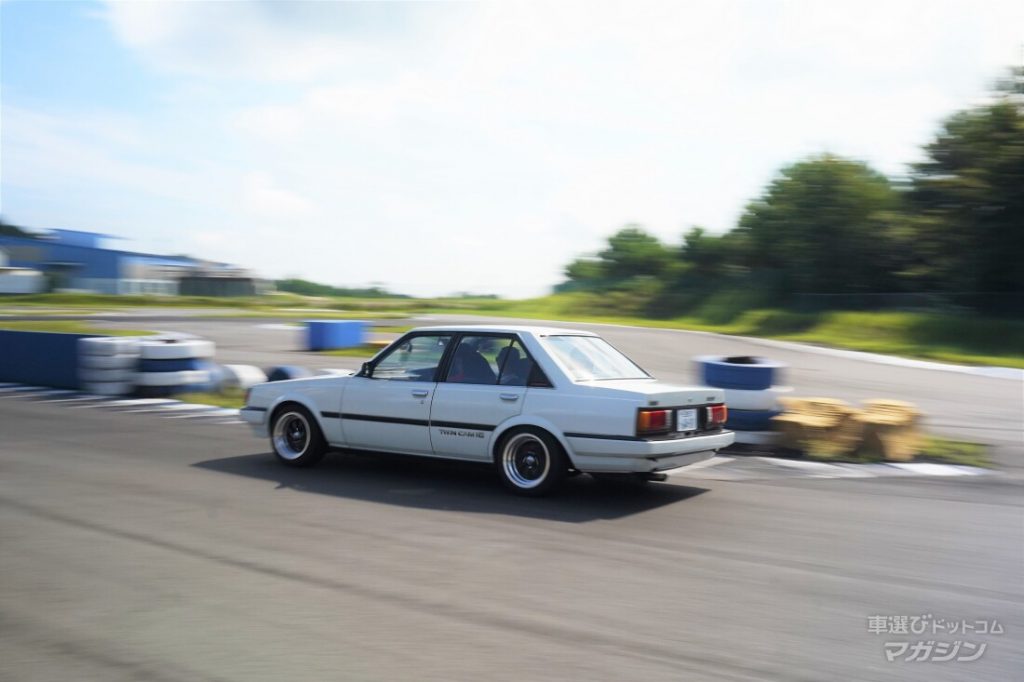 Keiichi Tsuchiya as driving instructor
In a second video that was posted on the Driftking TV Channel, Hachiko decides she wants to get lessons from Keiichi in the Carina on how to drive a manual car. So Hachiko sits in the drivers seat and Keiichi Tsuchiya sits in the passenger seat pretending to be a driving instructor.
Apparently she is currently trying to get her driving license and by the time they shot this video she only had 15 hours experience with driving a car. She doesn't even know how to start a car with a key! Clearly she's only used to modern Corollas.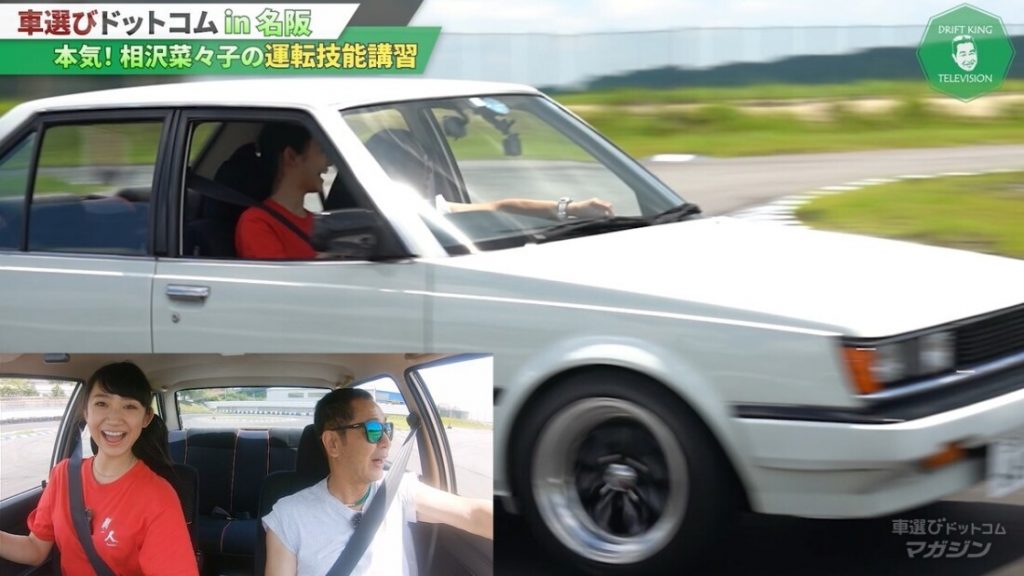 A slightly different version of the video has been posted by Hachiko herself:
In this version, Keiichi teaches her how to use the steering wheel properly after he got fed up with Hachiko doing goofy things with it. It is a bit tongue in cheek, but he ends up doing it respectfully. I like her exclaimation near the end: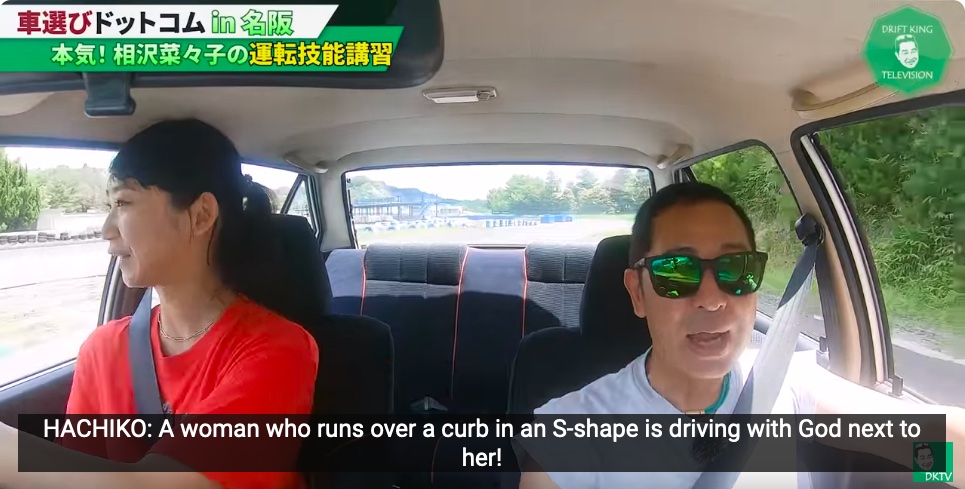 Keiichi remarks in the end that if he were a real driving instructor, she wouldn't have passed. Obviously she wouldn't have passed any Japanese driving exam with only 15 hours of driving, so that's rubbish. But like I said earlier: it's all tongue in cheek.
Buying this excellent Carina GT-R
If you want to buy this Carina, it's for sale for 2.73M yen. That roughly translates to 17K euros or 18K dollars. It is definitely worth the money as the car is rust free, has an immaculate interior, has coil over suspension, a TRD two-way diff in the rear, Momo steering wheel and runs on 15 inch aftermarket wheels.
If I were the one to buy this car, I would never wash or clean the car again! Perhaps go one step further: clingfilm wrap the entire car to preserve DK's fingerprints and encapsulating Hachiko's sweat and tears.
Original photos can be found here: https://magazine.kurumaerabi.com/articles/925
If you wish to follow Hachiko's…ahum…Nanako's vlogs, you can find her channel here: https://www.youtube.com/@nanakoaizawa