Manga Cars
In this second episode of reading Manga and car spotting I have many cars: a Nissan Silvia S13, Skyline R30, Laurel C31 and C32 and many, many more cool 80s and 90s JDM manga cars!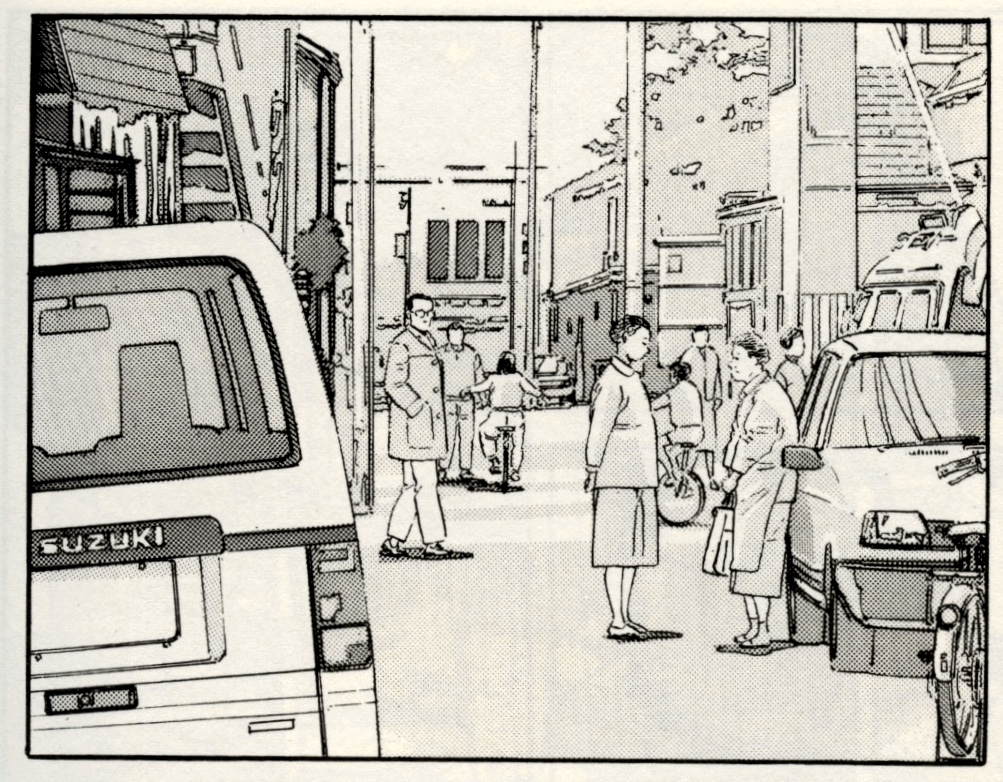 The Walking Man by Jiro Tanaguchi
The Manga I'm reading here is called The Walking Man by Jiro Tanaguchi. If you wish to obtain this book yourself, you can find it here: The Walking Man by Jiro Tanaguchi @ Amazon
You can find the video and the high resolution scans of the panels containing manga cars below:
Manga Car spotting video
Even though I spent a lot of time preparing this video and am convinced all cars have been identified correctly, I can always be wrong. Don't hesitate to leave any suggestions or updates in the comments below! Also to make it easier for you to look in depth at these manga cars, I've includes the scanned panels in the next section below.
Scanned panels

Take notice that I only include the panels including the manga cars here: I think this is already borderline and including complete scanned pages would probably be copyright infringement.
Cars in this video
Page 66:
Nissan Langley N12
Nissan Laurel C32 or Nissan Bluebird U11 Hardtop
Page 74:
Page 75:
Mitsubishi Colt 1500 A25 or Toyota Corona T20
Page 81:
Suzuki Every / Carry van
Suzuki Alto CA71
Hiace van
Daihatsu Charade G11 (not deTomasso)
Page 86:
Mazda MPV or Mitsubishi Chariot
Page 95:
Toyota Tercel AL20
Toyota Mark II X60
Liteace R20 (facelift)
Page 96:
Page 111:
Toyota Corona Taxi (outside)
Nissan Cedric / Gloria 430 interior
Toyota Crown MS120 door handles
Page 113:
Page 120:
Mitsubishi Canter 4th generation
Toyota Mark II X70 van / wagon
Mazda Titan truck
Page 122:
Page 128:
Nissan Silvia S13 Q's or K's
Page 129:
Page 130:
Daihatsu Mira L200
Honda Today
Mini
Bluebird U12 or Sprinter E90 or Sunny B13
Page 131:
Suzuki Every
Toyota HiAce
Nissan Laurel C32 hardtop
Page 135:
Subaru Sambar truck
Nissan Laurel C31 hardtop
Carry truck
Liteace truck
Nissan Skyline R30 facelift tekamen