The car in the photo below isn't a Toyota Chaser JZX100, but a Toyota Mark II JZX100. Almost the same thing you might think…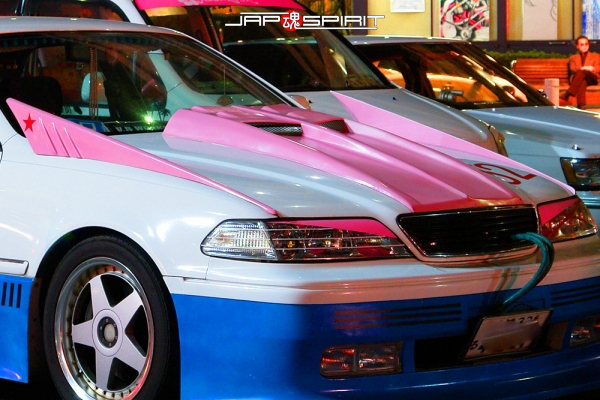 Well it is not but it was the only photo I could find of a JZX100 kaido racer and I actually might have tricked you to come here and read this by doing so. The whole thing is, everyone nowadays associates the sharknose term with kaido racers and their modified bodywork and I'm also debit on making that term popular with the bosozoku style blog.
Anyway, the ad I found on Youtube is a whole different sharknose Toyota Chaser JZX100 than a modified front end. Watch for your selves:

The Tourer V package replaced the GT Twin Turbo already for the Chaser JZX90 and for the Toyota Chaser JZX100 it now introduced a new BEAMS head with VVT-i and replacing the twin turbo setup with a huge single turbo. The output of the engine remained officially the same but rumors says it increased with about 40hp. No wonder the Toyota Chaser JZX100 is marketed as shark hunting down prey (cars) on the highway!
Photo by Jap Spirit
Direct link to video: 1996 トヨタ チェイサー ツアラーV|TOYOTA CHASER TOURER V