Down on the Street: wrapped Toyota FJ Cruiser
Down on the Street: wrapped Toyota FJ Cruiser
When I spotted a Toyota FJ Cruiser in the centre of Amsterdam I immediately thought of Mr. Regular's review of the FJ Cruiser. I think it was his most intellectual review so far and he starts yakking about simulation and simulacra.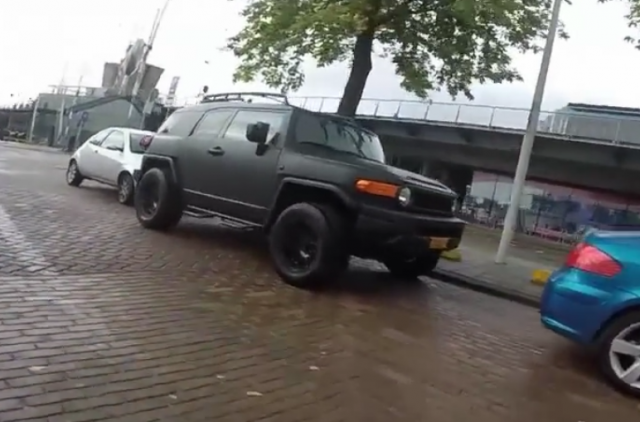 The general idea is that the Toyota FJ Cruiser is the car that was made as an hommage to the original short wheelbase Land Cruiser but kind of failed as it turned out to be a suburban beast. I kind of agree and disagree on his view: the FJ Cruiser *could* be also used properly in offroad conditions but as it has ordinary tires mounted it generally sucks at that.
Long story short, watch the video below:

If you watched the video by now, don't misunderstand me: I like Regular Car Reviews and I do like this FJ Cruiser.
The way this FJ Cruiser has been dressed up makes it look way better but it still remains an suburban car. The wide rims, roofrack and running boards make it look more muscular but the tires mounted no good at all in most offroad conditions. And I can't deny that half of the province Noord-Holland is actually the suburbs of either Amsterdam or Haarlem.
Direct link to video: Down on the Street: Toyota FJ Cruiser