I spotted this Honda Civic EK with red painted rims on a Sunday in my hometown when there was a big happening in the center of town.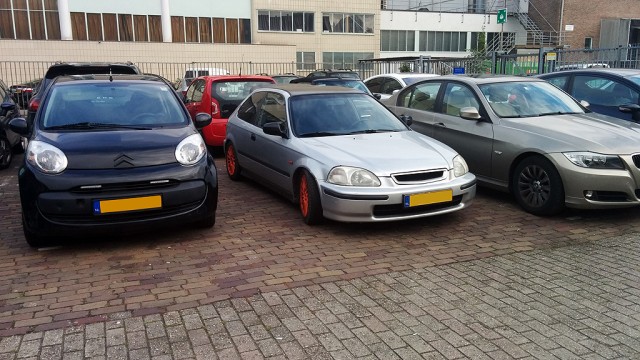 Perhaps the Civic is owned by a visitor, perhaps it is owned by someone actually living here but the fact is that I never saw it in town before.
I think the first thing I noticed were the red painted rims, only then I noticed it was a Civic EK.

On closer inspection I could see there were a few additional mods as well: fake-carbon wrapped roof, a Spoon style CF hatch spoiler and a big ass exhaust pipe. The rims look like OZ Super Turismo rims, but they are different in the center. Anyone familiar with them?
I'm not a big fan of this type of tuner cars but I actually would like to see it again and see what progress has been made.
Direct link to video: Down on the Street: Honda Cicv EK with red painted rims