January 2, 2015 in hilarious
While doing some research on the Toyota Celica Supra mk2 (aka Toyota Celica XX in Japan) I found this hilarious photo: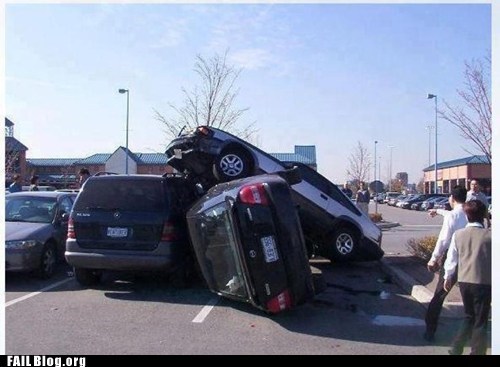 There is a Toyota Celica Supra mk2 P-Type parked on top of the last model Mazda Protegé (aka Mazda 323 and Mazda Familia) sedan in a typical parking lot. It is clearly a face-lifted P-type (Performance type) Celica Supra as it features the dished 7 inch wide Celica Supra wheels, the overfenders and the wraparound front indicators. It could be a MA61 or MA67 (sources differ on this matter) but it clearly is (or was) a mint Toyota Celica Supra mk2.
Now what went wrong here? Did the owner just confuse the pedals? Or did he/she try to conquer the Mazda Protegé? Or did he/she tried to park sideways? We'll probably never know…
Found at: Failblog