Back in the 80s I played was a game called Test Drive that allowed you to drive a Ferrari Testarossa, Lamborghini Countach, Lotus Esprit, Porsche 911 and the Chevrolet Corvette C4 (the order is my pick order from 1987). Shortly afterwards it was was succeeded by Test Drive 2 which only had the Ferrari F40, Lamborghini Diablo and the Porsche 959 and Test Drive 3 followed quickly. Then it became silent for a while as the company who created Test Drive created a fantastic game called Stunts. The only game to be considered a successor in the years after was The Need For Speed by Electronic Arts. It basically had the same feeling as Test Drive 1 including the police persuits and Test Drive 2 and featured again a set of "affordable cars" including the Toyota Supra JZA80, the Acura/Honda NSX and the Mazda RX-7 FD.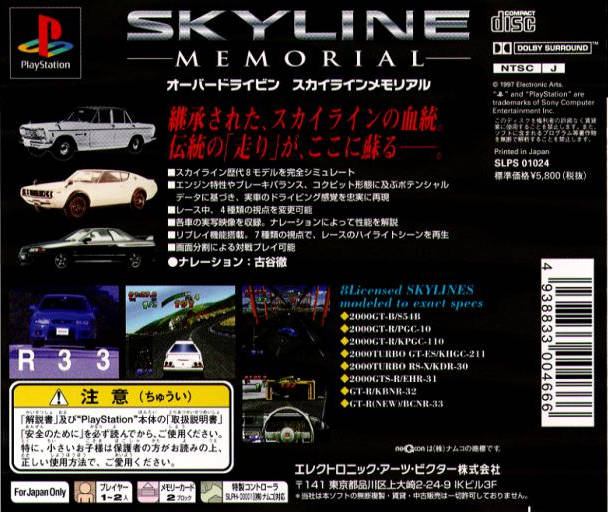 This game got really high scores from the magazines and became an instant bestseller and successors were made in big quantities. The NFS series also sold in Japan as the Over Drivin' series. Of course the game quickly adapted to the Japanese taste and in 1996 the Over Drivin' Nissan GT-R was released which included Nissan-only cars (more on this one in a later post). This series also included a special edition called Over Drivin' Skyline Memorial which basically is the same as the original The Need For Speed game but this time it contained the full Nissan Skyline range up till 1997:
Nissan Skyline GT S50-B
Nissan Skyline 2000 GT-R PGC10
Nissan Skyline 2000 GT-R KPGC110
Nissan Skyline 2000 GT-EX KHGC211
Nissan Skyline RS Turbo C KDR30
Nissan Skyline GTS-X HR31
Nissan Skyline GT-R BNR32
Nissan Skyline GT-R BNR32
Nissan R390
I remember playing this game a lot around 2001 or 2002 on my emulator (I did not own a NTSC capable Playstation) and had great fun with it!
The nice thing is that earlier this week IKnowSkyline posted all the video footage of all Skylines in the game in one single video:
Continue reading