Time to start going again with the blog and what would be more suitable than sharing one of my holiday finds: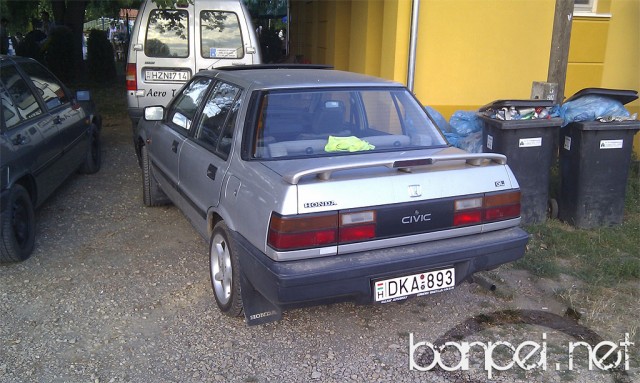 This four door Honda Civic Mk3 (AJ I think) sedan was parked regularly next to the swimming pool of Mesteri (the village I spent my holiday at) and I suspect it is owned by one of the employees of the pool and the car itself was in great condition if you consider it is almost thirty years old by now…
The Honda Civic Mk3 sedan was designed together with British Leyland to replace the Triumph Acclaim. The car was destined to be sold under the Rover brand as this was the brand BL was pushing forward as their main brand. The Rover 200 was identical to the Civic with the exception of a difference in the nose part that looked more posh: BL clearly wished to prevent the mistake they made with the Acclaim.
This particular car is the Civic counterpart that was sold less regular in Europe thanks to Rover owning the right to sell the 200 for the first years exclusively to countries where they were present. So this Civic is actually quite a rarity on the European soil! 😉
All this is something I recently learned from an 80s Honda/Toyota history book so I was unaware of this during my holiday. Actually the reason why I took the picture of the car was a nice detail on the boot lid spoiler: Continue reading