I was totally unfamiliar with Evenflow's Carina GT-R until I stumbled upon a video called Me myself and the Carina. It's a ff-ing hilarious video that tells you all about what makes the Toyota Carina GT-R stand out from the rest. I did remember seeing those two chaps in one of their earlier videos but I never actually subscribed to their channel. I'll explain later why I never bothered to subscribe to their videos. But I regret it now as I clearly missed this one by a long shot! They posted this video well over a year ago and I would have loved to see it right there and then!
What are Evenflow videos
The Evenflow channel "reviews" cars in a very humorous way or make goofy videos about walking through the Irish countryside. Usually in their videos there is a duo of Irish middle-aged countryside farmers called Terence and Alan, but sometimes other characters are featured as well. They are talking shit (actually shouting is a better description), driving/praising/reviewing cars, trying to sell tickets (more on that later) and drink beer all the time. This is then followed most of the time of them doing skids in the Irish countryside in the car they are "reviewing". All this while chain smoking cigarettes all the time and making foul jokes. I can't say anything about whether it's a good caricature of the Irish countryside, but its hilarious as f-ck! However, this time the video is a little bit different…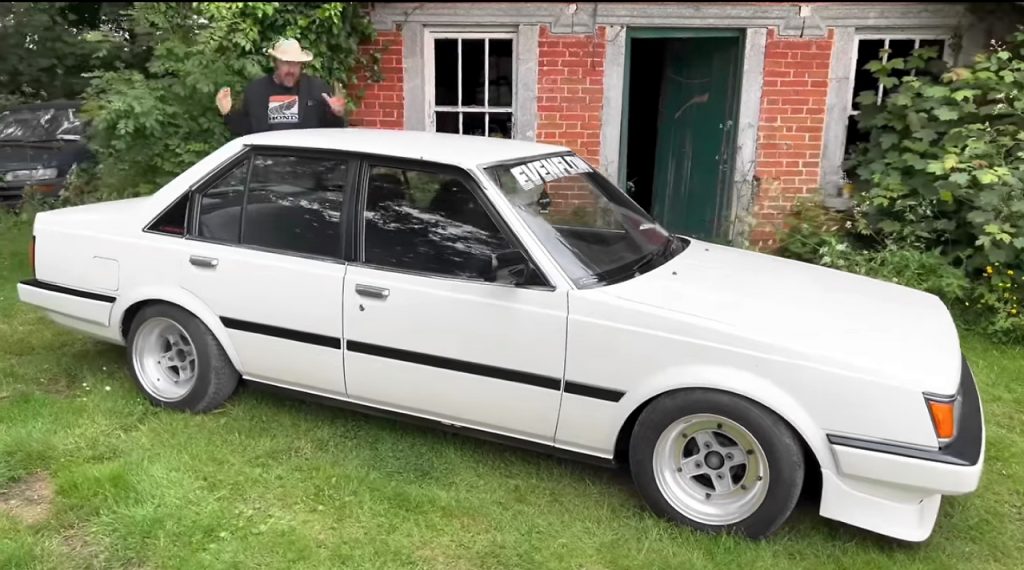 Terence's Carina GT-R
This time it's just Terence. But then twice! The editing was done magnificently and you really get the feeling he is there with his twin (delirium) brother. The Carina in question has been imported from Japan and is a 1984 model. It sits on a set of SSR Mk IIs with some nicely stretched tires. The interior looks near mint, albeit it has a half-cage installed. The engine's got an Apexi filter, it has coilovers all around and a TRD diff in the rear. There is a really nice lip that I would like to put on my Carina as well.
Trying not to spoil too much of the video, but the repetition of twin cam sixteen valves with a thick Irish accent got me rolling of the floor of laughter! This really is a must see video!
What's Evenflow?
Let me explain first what Evenflow is. In the UK and Ireland buying tickets for a car raffle is a big thing. Evenflow Media ltd follows this principle and raffles cars. So what you have been watching so far is actually an ad for a car raffle. An advertisement to make money out of your pockets.
How does the raffle work?
You may wonder if this is a good or a bad thing. Well, for a small amount of money you could own one of your dream cars! With a single ticket you could win a UK Spec Corolla AE86 for a mere 100 euros! It all sounds too good to be true, right?
How it works is that Evenflow sells you tickets for entry on their website. These tickets cost money. Each of these tickets have to be sent to Evenflow via post separately. Along with the ticket you have to answer a question or problem set. Your ticket plus answer has to arrive before the closing date of the raffle. After the closing date, Evenflow will then check all entrants and then raffle the car amongst all eligible people. The more tickets you buy, the higher the chance you will win your dream car! Still sounds pretty solid, right?
How fair is the raffle?
The issue with this is that Evenflow is allowed to disqualify any entrant based upon multiple reasons. First of all: you can only be eligible if you are a resident of the UK, Scotland, Northern Ireland or the Republic of Ireland. Second of all, the ticket has to arrive before the closing date. We all know how reliable the post is and Evenflow keeps selling tickets until the closing date or when the maximum of tickets has been reached. Evenflow is allowed to move the opening and closing date and only communicates this via their website. Evenflow is allowed to disqualify entries with the wrong answer to their question. The raffle happens via a "random number generator" (see 4.1), and this could be anything. It's not verified by a notary and there is no openness on which algorithm they use. Some random number generators can be predicted, so if you use this in your algorithm it could mean certain tickets have a higher chance of winning than others. Does that still sound like a good deal?
Morale
Yes, actually it is quite a good deal. I mean, for Evenflow. Evenflow will keep selling tickets until they have reached their target. Let's say they purchased this Carina GT-R AA63 for 9000 euros. Probably they want to make a bit of profit and they sell tickets until they have, let's say, quadrupled their purchase price. They keep making videos until they have reached their goal and then close it. They get a lot of viral publicity thanks to Terence and Alan and make a decent profit!
I have to say their entertainment factor is really good! I love the way Terence and Alan goof things up! However, I have to admit I have a bit of difficulty liking it with the knowledge the actual incentive for these videos is to extract as much money from fellow car enthusiasts as possible. Knowing this makes me get a bit of bad taste in my mouth after laughing. It's like laughing when you see your elderly neighbor slipping over some dog shit and fall down on the pavement. It is hilarious but at the same time you know he/she will have bruises for the next months. Evenflow is brilliant in both a good and evil way.
Bonus video
The Carina also featured in one of the Evenflow's goofy videos, so here it is as a bonus video!