JDM Trivia #11: Nissan Cima Y31 Mirror Wipers
When I thought the Japanese chindogu Side Wipers were the strangest thing that once used to be an accessory on a car I ran into this: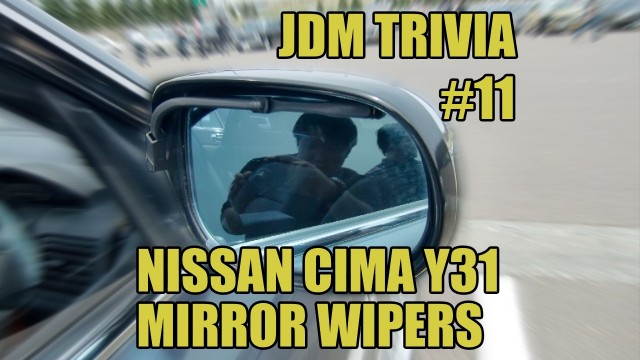 Mirror wipers!
Will that fit on my Honda?
At first I thought that this was another chindogu, in other words: a useless innovation. However a few days later I found my car in foggy weather and the fog created lots of small water droplets on my mirrors. Even the mirror heating option did not resolve this. Then I realized I was wrong: I need a set of these amazing mirror wipers on my Honda!

First car with mirror wipers
Unfortunately for us mortal souls the mirror wipers only featured on the 1988 Nissan Cima Y31. Rookie Tuner commented that they featured on the Nissan Leopard as well and it took me a few days to actually find proof of that. I searched for the Leopard F31 and ignored the previous model F30. Apparently the mirror wipers have been marketed on the Leopard F30 as first car technology, but were not carried over to the F31. Why Nissan hasn't featured them on their later products is for me a puzzle.
Teaser for next time: Next time I'll be opening a can of worms…
If you liked this video don't forget to watch the side wiper trivia video as well. And if you like chindogu please watch the Nissan Sports Matic and Nissan Drivers Guide videos as well.