JDM Trivia #7
The feedback I got from the picture I posted was great! Some people suffer from Pareidolia just like me. Pareidolia is when you see faces in everything and some of you saw angry and happy faces in the photo. But what I actually was aiming for were the swapped tail lights on the kaido racer in this photo. Some of the commenters already uncovered me as the person behind the Bosozoku Style blog and yes that's me.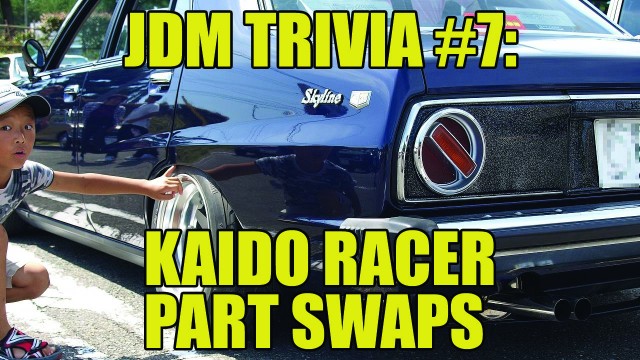 In the kaido racers scene swapping parts between various cars is a highly valued modification, especially if it something original.
Kaido Racer part swaps
I haven't done any statistics on this but I can say the most swapped parts are the tail lights of a Nissan Cherry X-1R and most of them end up on either a Skyline C110 or C210.
Second most swapped parts are the banana tail lights of the first generation JDM Toyota Celica liftback and it is unbelievable how well they look on Glorias, Fairladies, Skylines and Laurels. It is almost like the Nissan owners are jealous of this magnificent Toyota design.

Ass-up-face-down Soardric
Obviously there are many more swaps possible: Skyline C110 tail lights on a Dekotora. Or Skyline C210 tail lights on a Laurel, Fairlady or Cedric. Or Laurel C130 headlights on a Skyline. Or a Century frontend on the rear of a Nissan Gloria. And noteworthy to mention: team Madona's Nissan Cedric that gets transformed into this ass-up-face-down four door Soardric or Cedrer using the rear end of a Cedric. It may not be original from factory but the people swapping those parts surely were original with the choice they made. Love it or hate it? Let me know in the comments below!
Teaser for next time
Teaser for next time: what do you see in this picture?
See you next time!
Direct link to video: Kaido Racer part swaps [JDM Trivia #7]