JDM Trivia #1: Side wipers on the GX81!
JDM Trivia #1: Side wipers on the GX81!
Since last weeks question did not get answered I decided to change the format a bit from Question of the Week to JDM Trivia!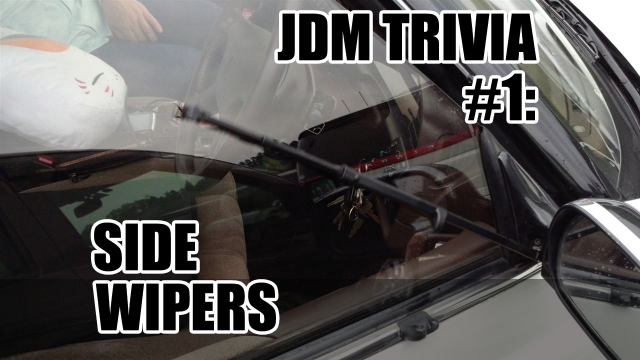 Weekly JDM Trivia
Every week will explain some small weird fact on something with Japanese cars. At the end of the video I will give a teaser on next weeks trivia and you can guess what it is in the comments below. How does that sound?
Last weeks question
Last weeks question was "In the picture shown you can see some weird chindogu applied to a car. What is it and which car does it belong to? Watch the question being answered in the video below:

Answer
The invention used was a so called side-wiper. Toyota thought that after windshield wipers, rear wipers and headlight wipers the next big luxury thing should be side wipers that clean your side window. They even added a washer jet in the side mirrors to ensure the cleaning of dry surfaces.
The side-wiper was an optional accesory for the Toyota Mark II, Chaser and Cresta X80 in 1988. It was created at the peak of the Japanese bubble economy and consumers demanded even more outragous options on cars. The bubble economy burst in 1990 and at the launch of the Toyota Mark II, Chaser and Cresta X90 in 1992 almost all options to the cars were actually making sense.
Teaser
The teaser for the JDM Trivia for next week: what do these cars have in common?
If you missed it: the teaser is shown in the video above starting from 1:52.
Leave your guesses in the comments below or on Youtube!
See you next week!
Direct link to video: Part one