Yesterday Japanese Nostalgic Car posted pictures of the Z-Car Club of Inland Valley Show in Temecula. Even though the name implies that it was a Z-Car only meeting, there were actually quite a lot of non Z-Cars at the meeting!
The most spectacular of them was this double frontend Datsun Cherry F10: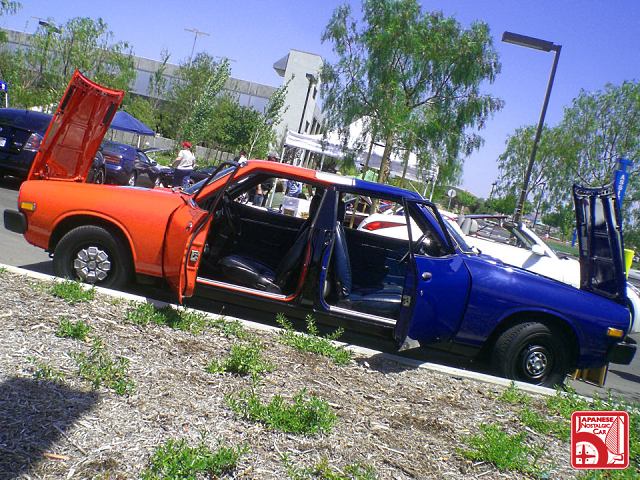 Double frontend Datsun Cherry F10
The two 1977 Cherry F10s were welded together by Fram to show how important car maintenance is: one half did get its proper treatment while the other half was neglected. The car was driven 20000 miles per year and after 75000 miles the neglected side really performed worse, got a bad MPG and produced more smog.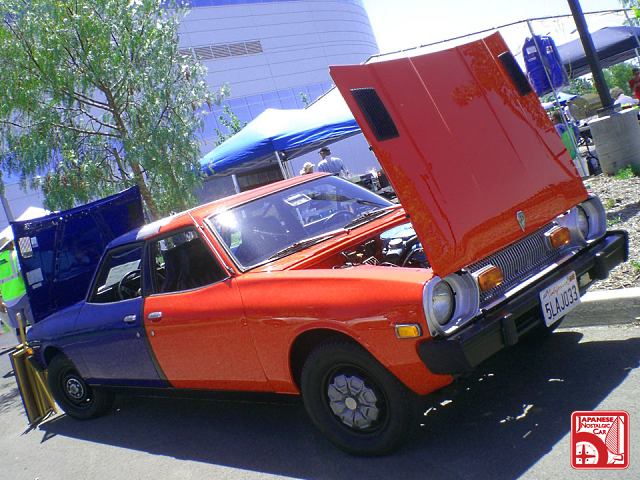 Double frontend Datsun Cherry F10
After they had proven their point the whole car got neglected until Steve Jasik found it more than 10 years ago parked next to a church.
The funny thing is that the lights in the grille serve as brake lights to make it road legal. So you can actually drive this car on the road without any problems at all!
He called the car Ying and Yang. According to Wikipedia: Ying and Yang is used to describe how seemingly disjunct or opposing forces are interconnected and interdependent in the natural world, giving rise to each other in turn. I think the name suits the car very well!