Everybody remembers Macau GP 1990 of the clash between Mika Hakkinen and Michael Schumacher. A race which showed what both drivers were capable of back then and later in their careers.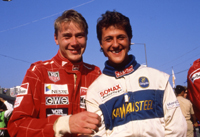 For those who don't know the story in a nutshell:
Mika Hakkinen, a famous Formula 3 driver back then, already won first leg of the Macau GP 1990 and needed to get second in the second leg of the race. He started okay, but an unknown Formula 3 driver called Michael Schumacher was just a bit quicker and drove in front of Mika Hakkinen.
Hakkinen could not pass Schumacher and Schumacher could not shake off Hakkinen. Hakkinen remained where he was during the whole race since he only needed to get second. Schumacher could not win this race by getting first. Schumacher left open a gap in the last round and Hakkinen fell for the trap: Schumacher closed the gap and hit Hakkinen's nose of the car. The car crashed into the wall and Hakkinen just lost the race by getting too eager to get first. If you want to see this happen, watch this:
Schumacher vs Hakkinen at the Macau GP 1990.
Of course with the knowledge of the Formula 1 races we now know that this is Schumachers trademark: compare this incident with Damon Hill's and Jaques Villeneuve's incidents with Schumacher. 😉
Anyway, what not many people know is that in that very same race someone else crashed into the wall as well: Keiichi Tsuchiya.
Tsuchiya was racing one time only for team Takasu Clinic with the Ralt RT34 chassis (Mugen-Honda), the predecessor of the chassis he was going to use through his 1991 Formula 3 season with Team 5Zigen.

He was 12th in the race and was making progress to climb up.
Here you can see the track layout: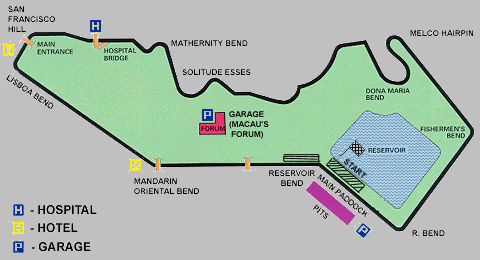 Just when he was overtaking at the streight before Lisboa bend, the car in front drove its own line without seeing him passing. He gets pushed into the guardrail and exit Keiichi.