Carina sightings: From Bejing with love
Carina sightings: From Bejing with love
I'm going to add another section: Carina Sightings.
This section will contain sightings in films, magazines and other references and will be updated regularly.
Today I have Gwok chaan Ling Ling Chat (From Bejing with love) which is a Chinese action movie. I really like the description of the plot by IMDB: An incompetent 007-wannabe is sent to locate a stolen dinosaur skull
One of the agents tries to escape with a Carina (I suspect SG by looking at he trim so type would be SA60 or AA60) and the man she just assassinated steps in (bulletproof vest) and joins her. Some Jaws lookalike cyborg guy stops the car by lifting it while they try to overrun him full throttle and doing a burnout. After they shoot him he lets go and they manage to finally overrun him.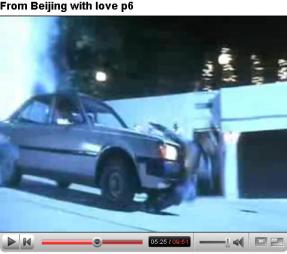 The carina features from 3:55 till 5:30 in this Youtube clip:

I don't really have the idea that I really should have seen this movie and I feel kind of disappointed now… Lucky enough I really like the wannabe 007 and his enternal cigarette so that makes up for it. 😉

Source: IMCDb.org