Earlier this week I read on Mari's blog that the Dutch town called Scheveningen is a very funny name in Japanese: Scheveningen sounds like sukebe ningen, which means depraved human being. Somehow that fits the town itself: it is one of the most well known seaside resorts and then there must be a lot of perverted people over there! 😀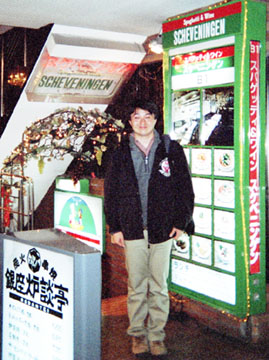 Japanese posing in front of Schevingen sign
So if you see a Japanese posing in front of a sign reading Scheveningen: now you know why!
Funnier is the fact that a Dutch town called Goor got renamed to Swaffelo. Goor is located near Almelo and Hengelo and well known for its funnyt name: Goor literally means dirty, filthy or could even mean perverted. Swaffelen is Dutch slang for dickslap, so Swaffelo means something like dickslaptown! 😀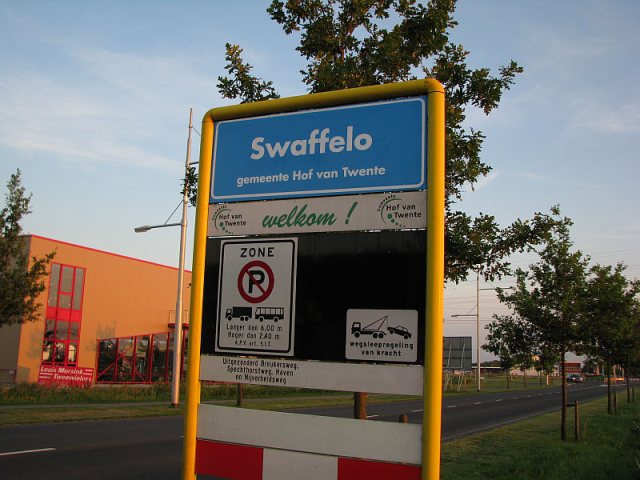 Dutch town Goor (dirty) got renamed to Swaffelo (dickslap)
The name got replaced for just one day as a ludicrous action. This was done during the school festivities to celebrate the ending of the past school year.
The fun part is that the town was elected to have the worst townname of the Netherlands. It is also well known for producing asbestos, so that doesn't help their reputation either. Its inhabitants are struggling to either rename the town or to return it to its original name Gaore (which means swamp) but they can't agree upon this decision. IMO Swaffelo is a very good compromise! 😉