Optionland Exciting Car Showdown 2009 the day after
Optionland Exciting Car Showdown 2009 the day after
The Optionland Exciting Car Showdown 2009 I blogged about was held this weekend. I did find some sources with pictures of the event (mostly Speedhunters of course) and surely there are a lot of exciting things going on there! 🙂
First of all: as I wrote before, Impulse was invited this year and they arrived with three Corolla Levins from which two were AE86 and one AE111:


Three Impulse Levins: AE86 and AE111
One AE86 was a "stock" AE86 with some really nice Doridoris and a N2 racer:


Two Impulse Levins AE86
Better view of the N2 racer:


Better view of the Impulse Levin AE86 N2 racer
According to Dino Dalle Carbonare this N2 racer has a smallport 4AGE with Toda ITBs and outputting 213HP at 9000rpm. I don't want to know what its rev limit is!
In case you're wondering why the N2 doesn't have a fender on the left side: this is a showcase of how the fender is mounted. Most of the N2 conversions are done with removing all metal from the fender so it is an irreversible process. This one has its fender lip cut away nicely and the N2 fender is mounted with a few drilled holes. Nice! 🙂
Furthermore I came accross this new feature, Electro Luminescence Car Vinyl by ELLighting Japan:

This is most probably the next big thing and will feature very very soon on D1GP cars and most probably be picked up soon on F1 cars for the night races!

This example is a bit less clear to see because of the surrounding lights are too bright, but imagine this black car with illuminating vinyl drifing on a night event! Can't wait! 🙂
Furthermore this Odyvia (Silvia with third generation Honda Odyssey) was something everybody talked about so I won't post any pictures of it. 😉
And this was also something exciting: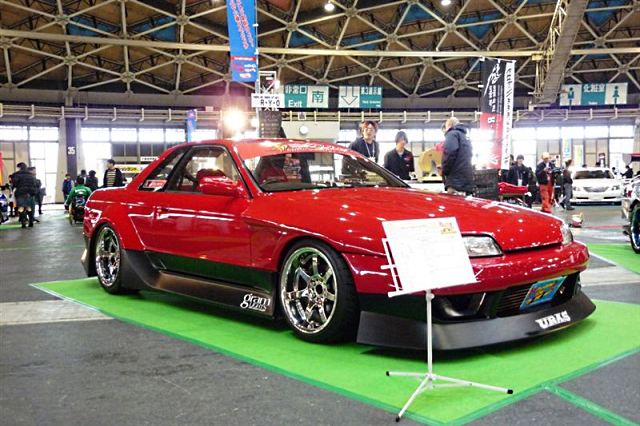 Champ Road Skyline HCR32 by RYO
RYO calls it the Champ Road Skyline and it is very like the Bosozoku Style. Maybe you can call more or less the successor of the Gran Chan style but I expect this style to be picked up soon. 🙂
Well, that's about it. You can read more about the Nagoya Exciting Car Showdown here:
Speedhunters
Jdmego
and probably soon more. 😉