Stepho's Toyota Site has been an indispensable resource for the classic Toyota community over the past two decades. Unfortunately his Australian provider Iinet stopped hosting their customers websites and therefore something important disappeared. Luckily enough I was able to retrieve 98% of its content from Archive.org and decided set up a mirror of Stepho's Toyota Site on my website. I was able to contact Wayne and got his approval for setting up a mirror. He confirmed his provider stopped doing webhosting and he's currently looking for new hosting and overhauling his entire website. Until he has done so the mirror on this site will remain.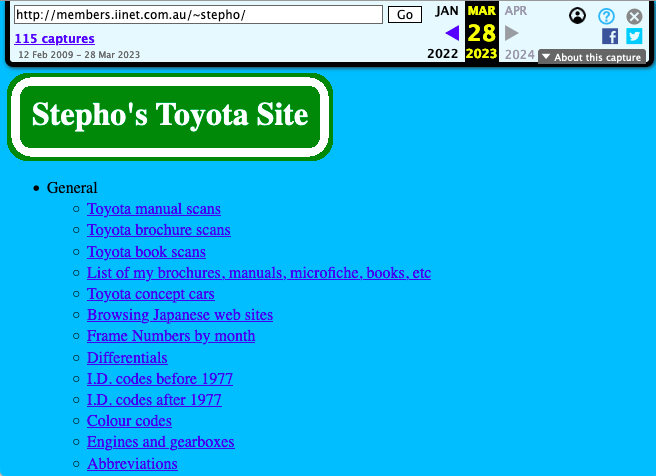 Stepho's Toyota Site
For those that are unfamiliar with Stepho's Toyota Site, Wayne Stephenson created a website about Toyota as far back as 2000-ish. The webdesign feels even older than that and I'd say it's more like 1997-ish, using free webcounters and webrings. (do you even remember those?) Wayne owned (or owns?) a 1977 Toyota Celica RA28 and a 1979 Carina TA45 in which he swapped a Lexus 1UZ V8. He shared all information he had on his website and slowly it became a rich resource of technical Toyota data. Over the decades he added more and more information and also visitors contributed their knowledge to his site.
I'm confident to say that almost any (older) technical Toyota resource has been "borrowing" knowledge from Wayne's site. I'm a 100% sure that I did. A quick scan through my website shows I have at least three links to his site. Also on the AEU86 site we copied data from his site, put that in our Technical Reference and linked back to his site. I would say Wayne is one of those unsung internet heroes who put a lot of effort in making information available and sharing it with the community!
Challenges to set up a mirror
You may think setting up a mirror is a breeze. Just download the content and then put it online somewhere. If it were that easy, my life would have been a lot easier than that. The Archive.org keeps copies of the files and pages it crawled in the past, but that means that if it didn't retrieve all files its copy isn't complete. I wasn't planning to go over the Archive.org and save each and every file individually. Luckily they have a page covering downloading a complete snapshot from the Archive.org and someone made a tool that would be able to download all files in such a snapshot. I extracted over 900 files from the Archive.org from the latest snapshot, but quickly found out it wasn't complete.
While traversing through the contents I kept finding missing files, so one by one I looked up these files, extracted the snapshot-identifier and saved the files in this snapshot over the latest. Then I overwrote the html files with the ones from the latest snapshot. Unfortunately there are still files missing. Especially the missing Celica brochures is a huge loss.
Stepho's Toyota Site mirror
I ended up keeping the mirror as close as possible to Wayne's original site, but it was inevitable that I had to make a couple of alterations.
I had to remove the hyperlinks to the missing files from the html to prevent errors. I removed the webcounter and webring parts as the webcounter and webring both have disappeared a long time ago. Instead I added a Google analytics tag to keep track of the website and what files are still missing.
I hope Wayne is able to get new hosting soon!