Welcome to this collections video!
Toyota 2000GT: Japanese Supercar
Eventhough the Toyota 2000GT wasn't entirely 100% Toyota as Yamaha built all of them, including the all aluminium body and the double overhead cam heads. Still the Toyota 2000GT was recognized as the first Japanese super car and it impressed the international press of what Japan and Toyota were capable of.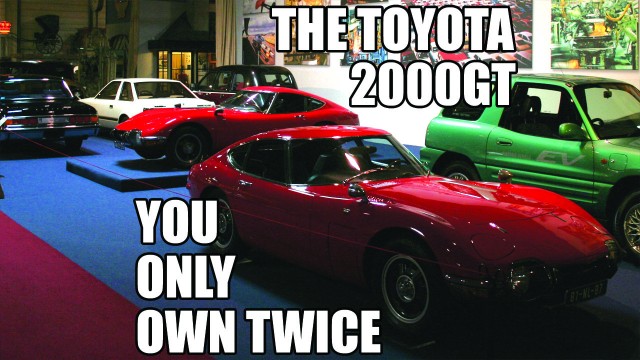 This Toyota 2000GT is an early 1967 left hand drive model and is part of the Louwman collection and exhibited in the Louwman museum in The Hague. You can tell it is an early model by the larger driving lamps, the shape of the front turn signal lamps and the smaller rear turn signal lamps.
The owner, Evert Louwman, also owns another early left hand drive model 2000GT (you can't have enough 2000GTs!) which is exhibited in the Dutch Toyota museum in Raamdonksveer. A fun fact is that the 2000GT never got exported to the Netherlands. The car in the museum in The Hague has been imported in 2006 while the one in the museum in Raamdonksveer had been imported already in 1976. That also means he owns two out of the 85 left hand drive 2000GTs.

Did I already mention he likes rare and exclusive cars?
Rare and exclusive cars
Let's go quickly through the checklist:
Steve McQueen's 1971 Baja Buggy? Check!
One of the original James Bond Aston Martin DB3s used in Goldfinger? Check!
Lexus LFA with serial number 001? Check!
Toyota 7 Turbo race car? Check!
Only remaining Toyota AA dragged from a Russian barn? Check!
Dr. Shoichiro Toyoda's company Century? Check!
Dr. Shoichiro Toyoda's desk? Check!
We can only dream of owning one single car out of such an amazing collection!
If you ever are in the neighborhood of The Hague or The Netherlands I can definitely recommend visiting the museum!
The address of the museum is:
Louwman Museum
Leidsestraatweg 57
2594 BB
The Hague
The Netherlands
(the Dutch Toyota Museum is a private collection which you can only visit upon invitation)