As being an admin of AEU86 I've seen a lot of questions, facts and fun stuff about the Toyota AE86 (hachi roku). I also see a lot of questions returning even though we documented it on the FAQ already.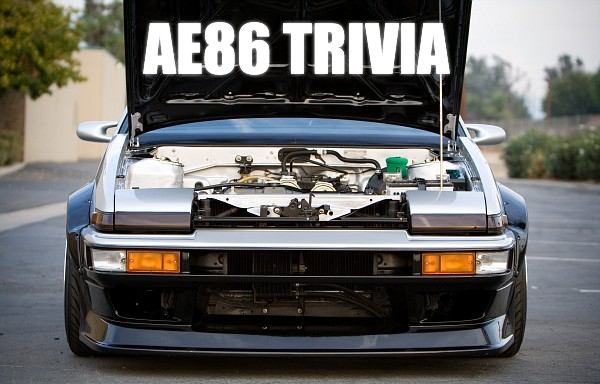 So I thought: why not share it in a returning item on my personal blog as well? Be prepared to encounter silly trivial facts about the hachi roku you probably never heard before! 😉
This week we'll start off with the Levin and Trueno naming. Where did it come from?
Toyota started using the Levin and Trueno designations already back in 1971 when they created the high performance TE27 models. The TE27 Corolla was called Levin (and SR5 in the US) while the TE27 Sprinter was called Trueno. This naming scheme for both cars lived on till the AE111: the Sprinter line ended with the AE111. The Corolla line still lives and still carries on the Levin badge for the more sporty models.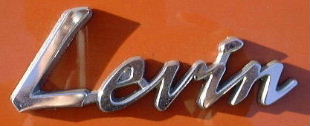 Classic TE27 Levin trunk emblem
There was a rumor that the Levin means lightning and Trueno means thunder in Japanese.
The Japanese part is not true: look it up in the dictionary, there are no such words listed in Japanese.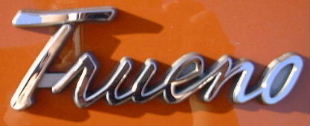 Classic TE27 Trueno trunk emblem
Then we started looking into this on AEU86 and first found that Levin meant lightning in Middle English.
Levin/lightning part confirmed! So, if Levin means lightning, does Trueno mean thunder then?



TE27 Levin grille emblem: clearly lightning!
As you can see at the end of the topic I sent an email to Toyota Japan asking where the naming came from.
Yes it does: before the Initial D hype flushed google with references to the Sprinter Trueno I already found the name Trueno matching a lot by El Capitan Trueno on images.google.com: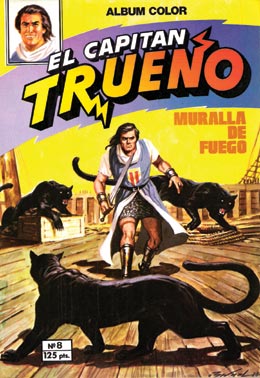 El Capitan Trueno deriva al rescate
Note the lightning arcs in his name! 😉
So it was not difficult to look up trueno in the Spanish dictionary.
Trueno/thunder part confirmed!


TE27 Trueno grille emblem: is this supposed to be thunder?
Funny story is when I had a dinner with a couple of friends in a restaurant and gave a few of them a ride in my old Trueno (featuring the AEU86 reproduction decals). One of the friends was a Spanish girl and she couldn't believe the car actually was called Thunder and she was having a ride in the Thunder! 😀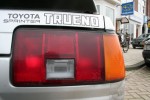 AEU86 Reproduction stickers of the Sprinter Trueno AE86 trunk decal
In the end I never received a reply back from Toyota Japan. So the decision why they took a Spanish and Middle English word still remains unknown!
Next week another AE86 Trivia! 🙂