Being one of the early bloggers about kaido racers (aka bosozoku style) I don't get a high brow often, but this JTTC Calsonic Nissan Skyline R31 race car replica in the shape of a kaido racer really gave me a WTF: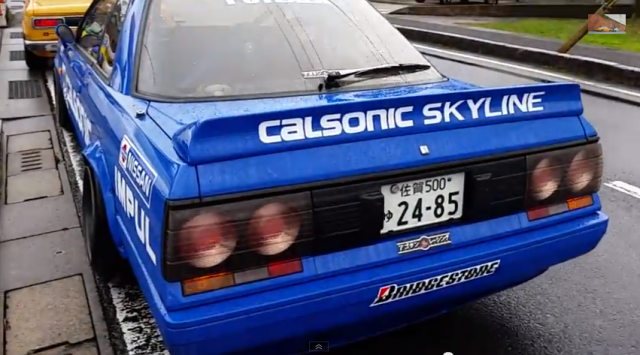 This video features a couple of Showa cars that are either kept (in mint) bone stock or modified to a great extend, including this Nissan Skyline R31 GTS-R. Now the interesting part is why the owner chose to hacksaw a big hole in the floorpan where the passenger seat used to be and routed the exhaust to the side of the car (through the sill) and not chose to do it directly through the sill from the . Or even welded something around the exhaust pipes to keep the noise levels a bit down. On the other hand, this makes the modification more obvious for the eye…
Apart from this Skyline there are the following cars: Toyota Celica GT-R AA63 (unmodified), Dual-Factory green Toyota Publica Starlet KP40, Body-Make Nissan Bluebird 810 coupe kaido racer, kyusha kai pigsbutt Nissan Laurel C130 on Hayashi Sakura rims, kyusha kai Nissan Skyline GT C110 on Racing Hart rims, Toyota Crown MS80 kaido racer, orange Nissan Skyline GT-R KPGC10 and a white G-Nose Nissan Fairlady 240Z S30.
You can watch the whole video below: Continue reading