The AE86 driven by Mike van der Raadt was one of the cars used in the Dutch Corolla Cup. The Dutch Corolla Cup started out as a one brand only racing cup. All cars should be equal to each other and could only be modified under restrictions. This allowed drivers to show their skills more than the tuners could do with time and money. It made the cup very competitive and fun to watch. Of course, due to the equality of the cars, a lot of banging was done and not many of the cars survived.
Here you can see some pictures of the Dutch Corolla Cup in action: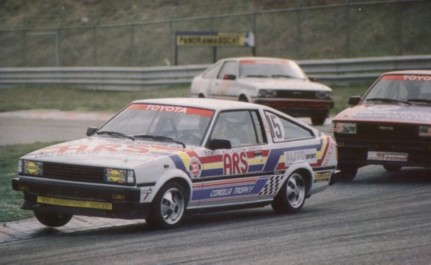 When the Dutch Corolla Cup entered its second generation of Rollas it received a different engine as well: the 4AGE of the AE86 instead of the 2T-G of the TE71. With this new engine it became again the field of time and money. The more money put into the team, the better the outcome. Then in 1986, also probably due to the obsoletion of RWD Toyota cars, the new Starlet took over and the races were only driven with the new FWD Starlets.
Of course the teams and drivers still used their Corollas in different cups and races, like for instance the ETCC, BTTC or endurance races.
The AE86 driven by Mike van der Raadt was a very competitive car in the Dutch Corolla Cup and not only in the Corolla Cup, but also later on in the Super Touring Class (nowadays referred as Group A). Theo Koks said in his last interview that there were only two really big competitors: the AE86 driven by Mike van der Raadt and the VW Sirocco of the director of Zandvoort.
As you can see in the picture below the Corolla was competing in the Super Touring class:

And it claims that the Corolla GT put the lap record of Zandvoort back into Dutch hands. IMO that is a bit impossible: Formula one just disappeared from Zandvoort back then and atleast those cars should be much much faster than this Corolla GT. Perhaps the lap record was set for the Super Touring class.
Back to the Corolla Cup: there are most probably still some other Corolla Cup or endurance racecars out there. I know for instance that the AE86 driven by Jasper Spaan stared its life as an endurance racer. It is RHD, non-European from origin and had a diff cooler in its axle. It was stored for 16 or 17 years when he bought it. Maybe this car was used in one of the endurance races on Spa as well.
I did find a bunch of pictures of Toyota Corollas (AE86) on Spa Francorchamps here, but no pictures of Jasper's car. Anyone got more pictures of the old endurance races on Spa Francorchamps?