A popular Japanese TV show called Sokon Tokoro featured a couple of fantastic wacky custom cars last week:

The first car is the George Tokoro's (the TV show host) Subaru R1 badged as a Ferrari. Not very hot. 🙁
But then a large line of wacky customs arrive around the corner of the stadium:
– A 1994 Cadillac limo lowrider limo with plush pink interior. The paint joib contains 11 colors!
– A dragster disguised as a tank! It is powered by jet engine capable of pushing more than 25000 hp! Even the fireproof camera can't stand its blast! It can reach a speed of 400 km/h!
– A factory stock Campagna T-REX, but for people who do not know this bike it is certainly wacky! 😉
The second video:

More bizarre cars:
– A BMW E66 which at first sight looks quite normal. Then the Buddhist priest gets out and shows the trunk is decorated with sutras written in Swarovski crystals!
– The priest also owns this Toyota Celsior with gullwings, scissor doors and a split hood and way too many displays! Even the headrests have display panels (to watch with the eyes in the back of your head!)
– A Dekotora van with a Batman theme.
– A 1981 Daihatsu Hijet with a Rocket launcher on its back. The rocket does work and is propelled as an ordinary water-rocket!
– A replica of the Earth Defence Force's Pointer from the Ultra Seven TV series showed in the late 1960s. The car itself is based upon the original car it was made of: the 1967 Chrysler Imperial.
– A Hitachi ASTACO of the Tokyo Fire Department immitating a giant crablike monster!
IMO they missed one car/owner in this video: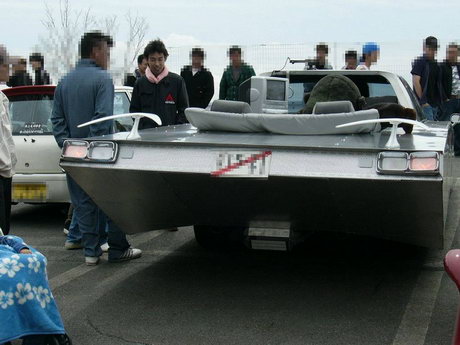 Daisuke Shouten's Bosozoku styled Toyota Celsior UCF11 vip car!
Through:
PinkTentacle