Finished After Dark by Haruki Murakami two weeks ago, shortly after I moved to my new house. It was a bit more readable book by Murakami than Kafka on the Shore or The Elephant Vanishes. There is a clear storyline with only a few mysterious or unclear passages, so it's nothing like Norwegian Wood. I would recommend it to new Murakami readers because it is a bit in between.
After finishing After Dark I was doubting what to read after it. Because most of the books were still packaged in boxes I only had a limited choice and chose a book which is actually my girlfriends. However she didn't had the time to read it yet.
The book I chose is The Amazing Adventures of Kavalier and Clay by Michael Chabon:

I must say I really appreciate this book: it is a very good book written about the start of the comic industry in New York. Two Jewish boys start their own comic called The Escapist. That's about how far I came so far (one third of the book) so I don't know yet what will happen.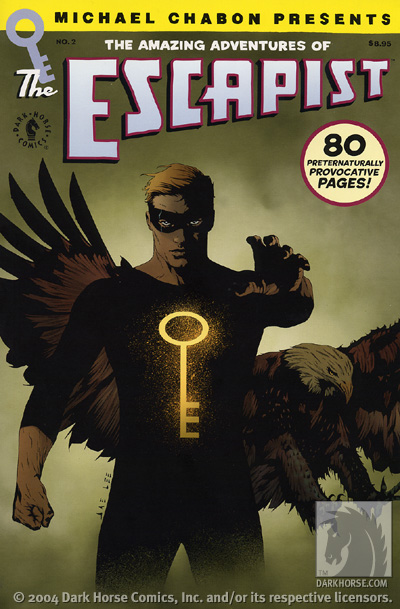 The book was written in 2000 and in 2004 Dark Horse comics created an issue of The Escapist together with Chabon. I think I'll try to find this issue in the near future. 😉
In the end I don't really think it is a book for my GF. She really did like the The Yiddish Policemen's Union but that's a completely different subject that this book.