I really found this exciting news by 7Tune.com: the Subaru/Toyota 086a compact sports car is rumored to have two different bodystyles based upon the Legacy floorpan. There are two styles: a very sleek look (Celica T230 lookalike?) and a more serious boxy version.


Toyota Subaru 086a sports car bodystyles
Why is this exciting news? Well, quite simple: the Toyota AE86 already featured two bodystyles! There was the more sporty Sprinter Trueno with the popuplights and the more serious Corolla Levin and both shared the same monocoque and bodystyle after the nose. This to improve the reuse of parts between the two cars. This caused a lot Levins to feature Trueno taillights and vice versa.
Then there was the Nissan S13 platform which did the same trick as well but differentiated between the two cars by creating a sporty hatchback and a sleek coupe for touring. After a short period people started to do swaps between the two different cars, mostly because of damaged frontends, and most of these swaps involved a Silvia S13 front to be mounted on a RPS13 180SX and creating the Sil80. The opposite of this was called the OneIva but was a bit more rare because it involved a bit more work. (I know: in the US the OneIva came rolling out of the factory, but it is Japan I'm referring to…) Nowadays we also see a lot of Silvia S15 fronts mounted on S13s and S14s as well.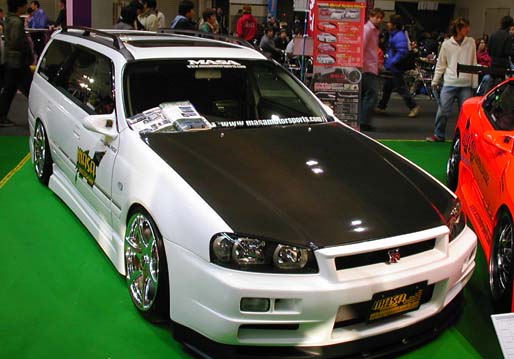 Nissan Stagea C34/R34 hybrid
Also the Nissan Skyline GTR (R34/R35) front gets mounted on several cars, like the Stagea. Also let's not forget the Bee*R R324 and R334 bodykits which allow you to mount a R34 on a R32 and R33. 😀
So, what will these two cars sharing the same 086a monocoque bring to us? Hopefully we'll see the hybrid bodystyles soon enough! 🙂
Picture of the 086a bodystyles belongs to 7Tune.com and you can find it here: 086a rumors on 7Tune.com