Banpei Weekly [ep.12] – Nissan-Datsun Rally & Race Digest
Banpei Weekly [ep.12] – Nissan-Datsun Rally & Race Digest
Welcome to the 12th episode of the Banpei Weekly! This week we have the channel & ae86 update, the random brochure/magazine featuring the Nissan-Datsun Rally & Race digest and the videos that I watched this week!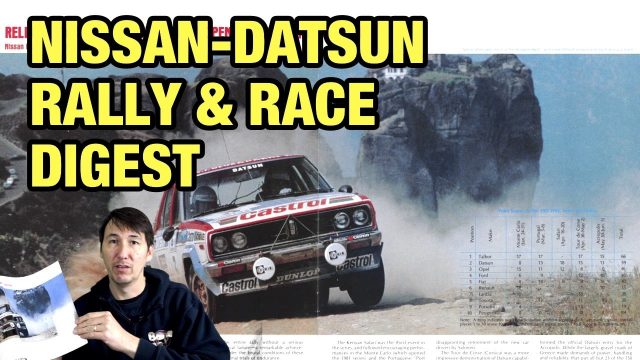 You can watch the full episode below:
Channel update
As you may have noticed, I've started to do the Banpei.net Q & A videos. If you have any questions you would like to ask me, please leave them in the comments below. I'll add them to the random-question-bag for the next video!
Toyota AE86 Update
Some really good news around the Toyota AE86: the AE86 has now been unloaded at the port of Amsterdam. Someone picked it up for me from the customs area, as I'm not allowed to do this. I will probably pick it up next week from their depot.
After I have picked up the Toyota AE86, there are so many things to do. I really need to make a proper todo list, otherwise I actually may forget things!
Random brochure: Nissan-Datsun Rally & Race digest
The random brochure/magazine this week is the Nissan-Datsun Rally & Race Digest number 6. This is a magazine that was probably placed at Nissan and Datsun dealerships. It contains all sorts of information and photos of Datsun and Nissan related rally and race teams. It also contains Paul Newman racing with a Datsun 240Z (Fairlady S30) in the US and the Impul Silvia S110 Super Silhouette Group 5 racer. For me the whole reason of buying this magazine was the Group 5 racing update.
A gallery of this magazine can be found below, or on the separate Nissan-Datsun Rally & Race digest page with all pages scanned in high resolution.

The videos that I feature this week are, just like always, in a playlist. You can find that playlist below: