Toyota AE86 on fire, tire stretching, suspicious Carina and Abunai Deka Leopard F31 [episode 7]
March 8, 2017 in banpei weekly, toyota ae86 by banpei
Welcome to the seventh episode of the Banpei Weekly!
This week I have a burning AE86, tire stretching, suspicious Carina and Abunai Deka Leopard F31 for you!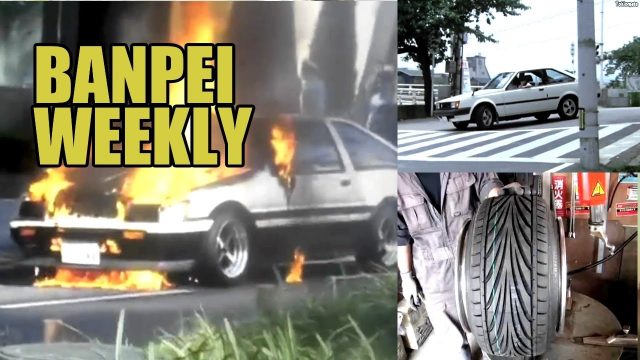 First of all a short update on the AE86: it is scheduled to leave Japan on the 25th of February and arrive early April!
See all about it in the video below:
Abunai Deka Nissan Leopard F31 tribute video
I love the car chases in Japanese 80s cop series, and Abunai Deka is certainly one of the best ones out there. Unfortunately Youtube has removed most of them (copyright infringement I guess) and I was getting nostalgic and started to search for alternative places. I found this tribute video on the Dailymotion, but not much more is to be found nowadays:

Giwaku (suspicion) movie
When searching for Abunai Deka videos on the Dailymotion I also spotted a small thumbnail image with a Toyota Carina coupe. Naturally I clicked on the thumbnail and found it was a movie called Giwaku (suspicion) from 1981. One of the cars featured was a brand new Toyota Carina GT RA63 coupe, which turned out to highlight one of the most important clues in the movie. I thought it was a nice find. You have to find this video yourselves. I gave enough hints in the video. 😉
Panda paint AE86
I created a video on the Toyota AE86 panda paint schema a year ago, but it was good to see someone apply it 100% correct in this video:
If you want to see everything about the panda paint of the AE86, this is the AE86 panda paint scheme video I made last year:
AE86 on fire?
I stumbled upon a video that read Burning AE86 in it's title, but actually it was clickbait. It was a Mercedes on fire that drove down the mountain as the parkingbrake failed after being on fire of a while. So I was wondering if I could actually find a video of an AE86 that was on fire. And yes I could:
I found a video of a Levin AE86 on fire! This proves that if you can think of anything, it probably already exists on the internet. 😉
Stretched tires
Last video for this week was also a nostalgic video: stretched tires. I found this one again and thought these two guys applying stretched tires have amazing haircuts!
That's it for this week! Join us next time for another Banpei Weekly!