Lisbon AE86, winning Paris Dakar Carina found, read Japanese using your phone, Toyota Soarer! [episode 8]
Lisbon AE86, winning Paris Dakar Carina found, read Japanese using your phone, Toyota Soarer! [episode 8]
Welcome to the eight episode of the Banpei Weekly!
This week we have a Toyota AE86 in Lisbon, the Paris-Dakar Carina found in someones back yard, learn how to read Japanese using your phone, a Toyota Soarer Super Gran Turismo MZ10 and many more things about the AE86!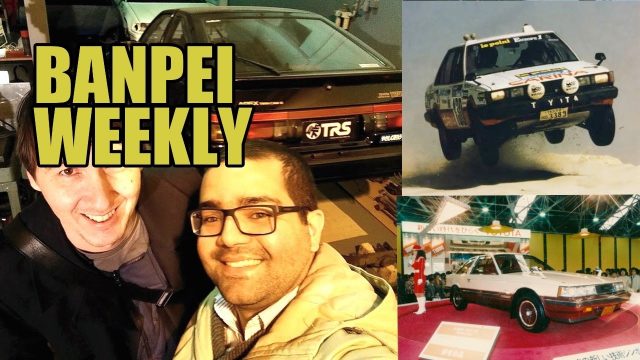 As I visited Lisbon for work I was also able to meet up with Luis. Luis registered on AEU86 as Pack a few years ago and owns a black Toyota Corolla AE86 that got a Trueno makeover. Since it is black it also is made in honor of the Black Limited theme.
Watch all about it in the video below:
AE86 update
On the side of the AE86: it is currently on a boat, heading towards Europe. I bought a bunch of goodies for the AE86, including a steering wheel and center caps. More on that once those goodies arrive!
How to read Japanese on your phone!
In a video by Techmoan (VHD – The forgotten 1980s Videodisc) I spotted how to read Japanese on your phone!
The trick used to read Japanese on your phone is simply using the latest version of the Google Translate app. It supports scanning of any characters using the camera on your phone. Simply swipe the part you wish to have translated, and it will immediately translate it for you. Very good tip if you ever travel abroad: you can now read *anything*! Hope this also helps others out there!
What's an intercooler?
IKnowSkyline posts Nissan and Skyline related videos regularly. Recently he posted a video from Nissan, explaining what an intercooler is and how it works.
Boring? Yes and no: they use the all new tekkamen Skyline R30 (iron mask) and that intro is just soooooo 80s!
Also learn where Nissan hid that Intercooler duct!
Paris-Dakar Carina
Regular viewers/visitors know that I'm very fond of a special Toyota Carina ST AA60: the one that won the RWD class of the fourth 1982 Paris-Dakar rally! Masaru Kubota was one of the drivers/mechanics from Team ACP and drove the Paris-Dakar Carina together with Masahiro Uchida.
My heart skipped a beat when someone called Mocking69 posted a video of that particular car:
He visits Masaru Kubota's back yard, that contains every single vehicle he drove in the Paris-Dakar rally! As you can see he doesn't take proper care for them and they simply rust and rot, as any other car in Japan does when parked. There are plans to revive all these cars, but it needs funding. Perhaps we all can help out there?
One-owner Wasabi Toyota AE86
This last video is kind of special to/for me: it is the exact same car that I'm importing from Japan, but then with an additional 360,000 kilometers on the odometer! Wasabi Cars posed this 1983 Toyota Sprinter Trueno AE86:
Big thanks to Daniel O'Grady for posting this!
That's it for this week! Don't forget to vote for the brochures!